Labour's Keith Hunter elected PCC for Humberside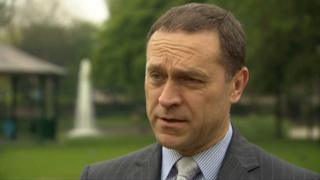 Labour Keith Hunter has been elected as Humberside's next police and crime commissioner.
Mr Hunter snatched the role from incumbent Matthew Grove after "second choice" votes were taken into consideration.
Neither him nor Mr Grove gained the required 50% of the vote to win outright in the first round of counts.
The former senior Humberside Police officer said he wanted "to pass more police power to communities".
More on this and other Humberside stories
Humberside: Second round votes
Candidate
Party
Number of votes
Matthew Grove
Conservative
51,757
Keith Hunter
Labour
76,128
In his speech after being declared victory, gaining 76,128 votes in the the second round, Mr Hunter said he would "argue strongly for more investment in policing".
"I want to help raise the eyes of police officers, and staff, to the horizon again and help build the good morale that leads to good delivery.
"I will use the office of the police and crime commissioner to start shaping a service that is more, not less, responsive to communities.
"To do this is a big job and I make no rash promises about how quickly it can be achieved or how quickly you will see differences."
Mr Grove, who polled 51,757 in the second round of voting, wished his successor well and said he was "proud of the work I did as PCC".
Chief Constable Justine Curran said: "I'd like to congratulate Keith Hunter on his success in the election for the Humberside Police and Crime Commissioner and I look forward to working with him in serving our local communities and keeping them safe."
Turnout in the election was higher than in 2012 when Mr Grove was voted in with a figure of more than 22%, compared to 19.15% four years ago.
Results after the first round of votes
Candidates are listed alphabetically by surname. BBC News App users: tap here to see the candidates.
Humberside
Candidate
Party
Number of votes
Matthew Grove
Conservative
40,925
Denis Healy
Liberal Democrat
23,451
Keith Hunter
Labour
62,010
Mike Whitehead
UKIP
27,434
More information is available on the Choose my PCC website.