Election 2015: Aberconwy Tory hopeful loses chairman's backing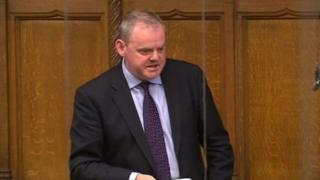 A Conservative politician seeking re-election has been accused by the chairman of his local party of playing "mind games" and told he no longer has his support.
Guto Bebb was elected in Aberconwy in 2010, but in an e-mail is told by Garry Burchett he has "spent the last 18 months making excuses for you".
Mr Bebb called Mr Burchett an "idiot" and "a disgrace" in response.
The e-mails were leaked to the Golwg360 website and seen by BBC Wales.
The exchange started with an email in which Mr Bebb queried the lack of involvement in the election campaign by Mr Burchett, a former mayor of Llandudno.
Mr Burchett replied on Monday, saying: "I have spent the last 18 months making excuses for you not using the Welsh Conservative brand.
"Making excuses why you do not live in the constituency. Making excuses why you do not support your Assembly Member.
"In a nutshell. You have used the Conservative brand and the Aberconwy Conservative Association as a means to an end. You have only ever had one party in your heart. The 'Guto Bebb Party.'"
Mr Burchett added: "You most certainly DO NOT have my support as Chairman."
Mr Bebb responded by saying: "What an idiot you are. We pay (Conservative adviser) Lynton Crosby a million per year for advice.
"His advice to me was clear - sell yourself not the party. Do you know better? You are a disgrace."
Mr Burchett, Mr Bebb and the Welsh Conservatives have all declined to comment.
A full list of the candidates standing in Aberconwy can be found here.