Election profile: Plaid Cymru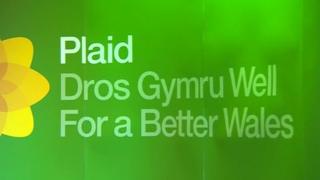 Plaid Cymru enters the 2015 General Election at a time when its sister party, the SNP, is enjoying unprecedented success - something Plaid wants to replicate in Wales.
Led by Leanne Wood, the first female leader in the party's history, Plaid Cymru sees itself as a left wing party aiming at increasing economic prosperity and social justice, and securing an independent Wales.
With opinion polls suggesting only modest support for independence, much of Plaid's campaign will be focused on alternatives to austerity and a call for Wales to get the same level of spending on devolved services per head as Scotland - an extra £1.2bn a year.
It currently has three MPs, 11 members of the Welsh assembly and one member of the European Parliament.
The party was established in 1925, but it had to wait until 1966 for its first electoral breakthrough, when party president Gwynfor Evans won Carmarthen in a by-election.
But Plaid Cymru struggled to build substantially on that success and has never won more than four seats at Westminster.
Its electoral fortunes improved after the narrow vote in favour of devolution in the 1997 referendum which led to the creation of the National Assembly for Wales.
In the first elections to the new body in 1999, Plaid won 17 of the 60 seats, with dramatic wins in Labour's traditional heartlands such as the south Wales valleys.
Despite not hitting the same heights in subsequent elections, it entered government for the first time in 2007.
A hung assembly meant a series of coalition talks - a joint programme had been agreed between Plaid, the Conservatives and the Liberal Democrats, but Plaid eventually plumped for a coalition with Labour, the largest party.
Back in opposition in Cardiff Bay since 2011, Plaid is hoping for a strong performance in the general election in order to increase its influence if there is a hung parliament. Party leaders have already stated their intention to negotiate as part of a bloc with the SNP and the Greens.
This will be the first major electoral test for Leanne Wood. A Welsh-learner from the Rhondda, her election was seen as a sign of the party's desire to build new support in urban and industrial parts of Wales.
Plaid Cymru's central message is a rejection of the budgetary cuts proposed by the Conservatives and Labour.
It would also scrap the UK's Trident nuclear deterrent and is calling for Wales' funding from the Treasury to be increased in line with Scotland's allocation.
---
Key dates
1925 - Plaid Cymru formed
1966 - Gwynfor Evans elected as the party's first MP in a by-election
1974 - Plaid wins two seats at the February general election, and three in October
1980 - Gwynfor Evans threatens to go on hunger strike to secure the creation of TV channel S4C, prompting an early U-turn by then Prime Minister Margaret Thatcher
1992 - Plaid wins a record four seats at the general election, repeated in 1997 and 2001
1999 - Plaid takes 17 seats out of 60 in the first Welsh assembly elections, its best performance to date
1999 - First ever European election success, with two out of the five MEPs for Wales
2001 - Best general election performance with 14.3% of the Welsh vote
2007 - Ministers in government for the first time in an assembly coalition with Labour
2012 - Leanne Wood elected as the party's first female leader