Election 2015: Campaign centres on English MP votes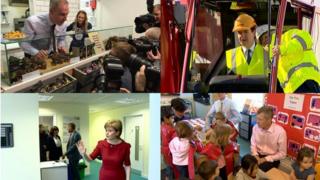 Parties have continued to clash over planned constitutional change, with the Liberal Democrats proposing an "English-only" voting stage for legislation affecting England.
It comes after George Osborne defended Tory plans to give English MPs a veto on income tax changes at Westminster.
During a trip to Aberdeenshire, Mr Osborne said it was "only fair."
Both the SNP and Labour said the manifesto commitment was a "betrayal" of the Smith Commission agreement.
The cross-party deal was struck following last year's independence referendum.
Mr Osborne, the chancellor in the last government, denied plans to give English MPs a veto on income tax decisions, when Scotland sets its own rate, would jeopardise the union.
He was speaking during a visit to an oil equipment depot near Echt, while promoting the Conservative's record on the economy.
He said: "What we're doing is giving Scotland greater control over its own affairs, that's enshrined in our manifesto this week and an urgent priority of the next Conservative government.
"It involves a Scottish rate of income tax, which of course by definition leads to an English rate of income tax, and it's right and only fair that English MPs have a decisive say on that.
"But all MPs, all UK MPs, will then vote on the budget and I think that's the sensible way forward to both strengthen the United Kingdom and give Scotland greater control over its own affairs."
---
Analysis
Brian Taylor, BBC Scotland Political Editor
Clearly delving into Wizard Oz imagery, Lib Dem leader Nick Clegg said that he would provide the Tories with a heart and Labour with a brain. Which, of course, only leaves courage. Who, one wonders, will supply that to our tribunes?
Mr Clegg's role would be to act as guiding shepherd, shunning what he characterised as the borrowing excesses of Labour on the one hand and the zeal for spending cuts of the Tories on the other.
Beyond steering Labour and the Tories, he says the Lib Dems will prevent Alex Salmond from wielding any influence on UK governance and will keep Nigel Farage remote from Downing Street.
---
The Liberal Democrat's proposal to introduce an English-only voting stage is contained in the party's UK manifesto.
The party argued that a future UK government could use Scottish, Welsh and Northern Irish votes to pass legislation that only affected England, even if a majority of English MPs objected.
The English-only stage would be proportionally balanced to reflect party balance in the House of Commons.
Barnett formula
The UKIP manifesto said it would "insist" on English votes for English laws.
The document said that only MPs for English constituencies would vote on laws affecting only England.
It also said it would "re-balance" the Barnett formula towards England and Wales.
The SNP criticised the Liberal Democrat manifesto, saying the party had lost the trust of Scottish voters.
SNP MEP Alyn Smith also hit-out at UKIP's proposals to reduce spending for Scotland.
He said: "This shows UKIP up in their true colours, wanting to slash Scotland's budget while ignoring that we have paid more tax per head than the rest of the UK in every one of the past 34 years.
"For as long as Westminster holds Scotland's purse strings, the Barnett formula should stay in place - though the Treasury have already said it is going to be reduced by two-thirds."
Meanwhile, Scottish Labour argued the economic policies of both the SNP and Conservative parties were "fiscal fantasy".
The party's Scottish affairs spokeswoman Margaret Curran said, "The Tories and the SNP are now pursuing a joint and dangerous agenda of shattering the UK tax system and breaking apart the UK welfare state.
"We already know the SNP's plan for full fiscal autonomy will mean £7.6bn of cuts and bring the UK welfare state in Scotland to an end.
"And the Tory plan for English only taxation looks like the first step to full fiscal autonomy for England. Both ideas are full fiscal fantasy."
---
Scottish Socialist Party launches manifesto
The Scottish Socialist Party is fielding 4 candidates in the general election. Its manifesto, which it launched in Edinburgh, includes pledges to:
Introduce a £10 living wage
End austerity
Eradicate zero-hours contracts
Enhance carers' rights
---