Election 2015: DUP seeks commission on union after poll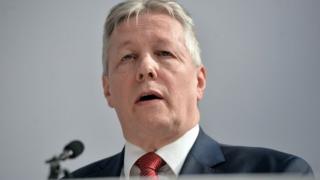 The Democratic Unionist Party is to make the creation of a commission on the union "a non-negotiable requirement" of any post-election deal.
Party leader Peter Robinson outlined the party's position during a speech on Monday night.
He was speaking in the event of his party having any influence after Thursday's general election.
Mr Robinson said he would expect the leaders of all the pro-union parties at Westminster to sign up to the idea.
He said such a commission would seek to deal with the interests, not only of those who live in the regions of the United Kingdom, but also in England as well.
He argued this could pave the way for a long-term stable and secure United Kingdom.