Nottinghamshire councillor Jason Zadrozny charged with child sex offences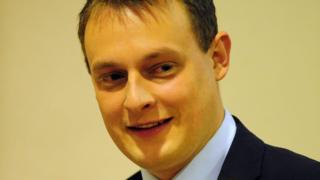 A Nottinghamshire county councillor has been charged with 10 child sex offences.
Jason Zadrozny, 35, of Sutton Road, in Kirkby-in-Ashfield, has been charged with offences ranging from rape to indecent assault.
The offences are alleged to have been committed between September 2003 and September 2006.
Mr Zadrozny, who "vehemently refutes the allegations", is due at Mansfield Magistrates' Court on 30 March.
Updates on this story and more from Nottinghamshire
In a statement, Mr Zadrozny said: "Absolutely nothing has changed. I said last year that I would clear my name and nothing has changed.
"I look forward to clearing my name. In the meantime, I will continue to represent my constituents in the conscientious manner they are accustomed to."
A councillor with the Ashfield Independents Group, Mr Zadrozny serves both Ashfield District Council and Nottinghamshire County Council.
He was re-elected to the Sutton-in-Ashfield North ward in May 2013.
Anthony May, Nottinghamshire County Council chief executive, said: "We are aware that a Nottinghamshire county councillor has been charged with a number of sexual offences.
"There is no action that the county council can take at this stage as this is a matter for the courts."
The council added that since changes to the Localism Act 2011, they no longer have the power to suspend councillors.
Therefore, Jason Zadrozny will not be disqualified from his role unless he is later sentenced to a jail term of three months or more, or given a suspended sentence.
Ashfield District Council also confirmed they have been informed of the charges but will not be making any further comment at this stage.
BBC Radio Nottingham political reporter Peter Saull said Mr Zadrozny became the youngest council leader in England in 2007.
When he was first questioned by police in March last year, he was hoping to become Ashfield's first ever Liberal Democrat MP. Mr Zadrozny was subsequently suspended by the party.