Election 2015: Nick Clegg and Ed Miliband resign as leaders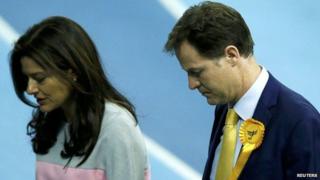 Two of South Yorkshire's MPs have resigned as party leaders after poor performances in the general election.
Former deputy prime minister Nick Clegg quit as leader of the Liberal Democrats, stating he must take responsibility for his party's losses.
Resigning as Labour leader, Ed Miliband said he was "truly sorry" he had failed to lead the party into government.
Mr Clegg retained his Sheffield Hallam seat with a reduced majority while Mr Miliband kept hold of Doncaster North.
The number of Liberal Democrat MPs has been decimated from 56 to eight, with three former cabinet members among the losers.
Announcing his resignation, Mr Clegg said the results had been "immeasurably crushing", adding: "For that, I must take responsibility."
Polling 22,215 votes, Mr Clegg retained his constituency seat with a 2,353 majority - down from a 15,284 in 2010.
Labour suffered heavy losses at the hands of the Scottish National Party, while the Tories achieved a majority to form a new government.
Announcing his resignation, Mr Miliband, who won with 20,708 votes, said: "I take absolute and total responsibility for the result and our defeat at this election.
"I'm so sorry for all of those colleagues who lost their seats."
The political make-up elsewhere in South Yorkshire remains unchanged. Labour retained every other seat, despite challenges from UKIP.
UKIP increased their vote share by 18.3% in Mr Miliband's constituency, with Kim Parkinson winning 8,928 votes to finish second.
The Conservatives were third with 7,235.