Police review UKIP candidate Robert Blay 'shooting threat'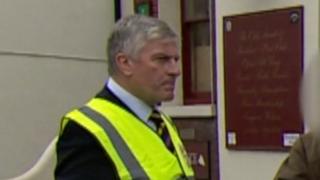 Police are reviewing footage of a UKIP candidate who was filmed apparently threatening to shoot a Conservative rival.
Robert Blay was filmed by an undercover reporter speaking about Ranil Jayawardena.
Mr Blay, who was standing in North East Hampshire, has been suspended by his party.
Hampshire Police confirmed it was in contact with Mr Jayawardena.
The Daily Mirror published a video of Mr Blay speaking at a public meeting addressed by UKIP leader Nigel Farage on Saturday in Ramsgate, Kent.
Mr Blay, a former Conservative, noted that Mr Jayawardena had been tipped to be Britain's first Asian prime minister.
The Mirror reported he said: "If he is, I will personally put a bullet between his eyes. If this lad turns up to be our prime minister I will personally put a bullet in him. That's how strong I feel about it."
Nigel Farage said the comments were "stupid".
Mr Jayawardena's campaign manager told BBC South that police had visited Mr Jayawardena's home as a precaution following the Mirror's report.
Mr Jayawardena said: "I was shocked to hear about these comments and that someone who holds these views could have been selected as a UKIP candidate."
He added he could not say anything further as Mr Blay's comments were "now a legal matter."
Mr Blay has so far been unavailable for comment.