UKIP 'sausage roll' candidate Kim Rose quotes Hitler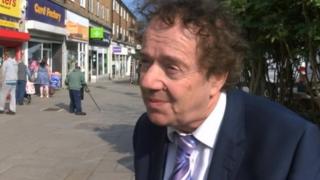 A UKIP parliamentary candidate has said he does not regret quoting from Adolf Hitler's Mein Kampf at a hustings.
Southampton Itchen candidate Kim Rose said he had used the passage from the Nazi leader's autobiography in reference to an "undemocratic" EU.
Mr Rose was previously questioned by police for providing sausage rolls at a campaign event.
He said he saw Europe "turning into exactly what Hitler wanted in 1942" under the EU.
Mr Rose used a quote while speaking during the election event, held at Southampton's Asda superstore.
'Erode rights'
It read: "The best way to take control over a people and control them utterly is to take a little of their freedom at a time, to erode rights by a thousand tiny and almost imperceptible reductions.
"In this way, the people will not see those rights and freedoms being removed until past the point at which these changes cannot be reversed."
Mr Rose said his party is pushing for an EU referendum.
"I gave my quotation of Adolf Hitler to prove my point: that the EU is undemocratic," he said.
"We can't vote for a new lot of people in there if we're not happy with the way they're running it."
Mr Rose was recently called in for police questioning over allegations he tried to influence voters by giving away sausage rolls at a party event featuring snooker star Jimmy White, though no further action was taken against him.
Electoral Commission rules state food and entertainment cannot be provided by candidates to "corruptly influence" votes.
---
The candidates for the constituency are:
Sue Atkins (Trade Unionist and Socialist Coalition)
Eleanor Bell (Liberal Democrat)
Rowenna Davis (Labour)
Kim Rose (UK Independence Party)
Royston Smith (Conservative)
John Spottiswoode (Green)
---