Bath MP candidates support bypass idea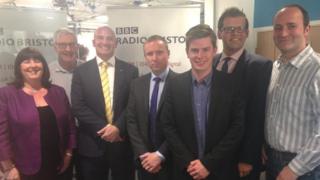 Candidates competing to be the new MP for Bath have said a new link road would help cut congestion in the city.
In a BBC Radio Bristol debate, UKIP, the Conservative, Liberal Democrat and Independent candidates all said they backed the A36-A46 link road bypass.
Labour called for a "London-style" transport body, while the Greens called for stronger controls on bus fare prices to make them more affordable.
Youth unemployment, disability benefits were also discussed in the live event.
'Practical form'
Six candidates took part in the debate but not the English Democrats.
UKIP candidate, Julian Deverell said: "The council has put a lot of effort into discouraging cars coming into the city deliberately by putting in more traffic lights, more junctions, closing off more roads - I would undo all of that."
Labour's Ollie Middleton said: "We'll also hand the power to control fares back to councils which hopefully will lead to a reduction [in bus fares]."
Dominic Tristram, from the Green Party, said: "We would regulate bus fares and make them a much more practical form of transport and also walking and cycling.
"Bath is a very hilly place...so we would make it easier to get bikes onto buses."
'Smart card'
Independent, Loraine Morgan-Brinkhurst, agreed with regulating bus fares.
She added: "We do need to petition the government to get that money in for the Eastern Bath Park and Rail - we desperately need it."
She also called for a new bypass as it would reduce pollution and said it would prevent asthma among children.
Conservative Ben Howlett said his party wanted integrated transport and a smart card system to reduce prices.
Mr Howlett also wanted a river taxi service and cycle racks on buses, to encourage more cycling.
Steve Bradley said the ruling Liberal Democrats in the local council had already made progress with its new transport strategy by the expansion of the three existing park and rides.
He added he would fight for a new bypass and a new park and rail system.
---
The candidates for the constituency are:
Steve Bradley - Liberal Democrats
Julian Deverell - UKIP
Ben Howlett - Conservative
Jenny Knight - English Democrats
Ollie Middleton - Labour
Loraine Morgan-Brinkhurst - Independent
Dominic Tristram - Green
---