Lib Dem Sebastian Kindersley misspells 'language' in leaflet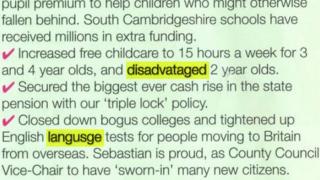 A prospective parliamentary candidate has apologised after misspelling the word "language" in claims his party had improved English tests for migrants.
South Cambridgeshire Liberal Democrat Sebastian Kindersley's campaign leaflet said his party had "tightened up English langusge tests".
"I hold my hand up, it's a mistake," Mr Kindersley said.
"On the upside it will give people hours of fun looking for errors in the next leaflet."
He described the error as ironic, but it had been a mistake "and they happen".
"It's been pointed out and I apologise if I've upset anyone," he continued.
"Various people" had been involved in putting together his election leaflet, but he said the mistakes "are mine and I take full responsibility".
"When the next ones come out people can entertain themselves looking for more dastardly errors," Mr Kindersley added.
His leaflet also mentioned the Lib Dems' work to increase free childcare for "disadvataged 2 year olds" rather than "disadvantaged" children.
"I hadn't noticed that one," Mr Kindersley said.
"I'm considering keeping the typos as a talking point."
Up to 15,000 of the erroneous leaflets were printed.
---
Other candidates standing in the Cambridgeshire South constituency:
Heidi Allen - Conservative
---