Michael Gove moves to justice in post-election reshuffle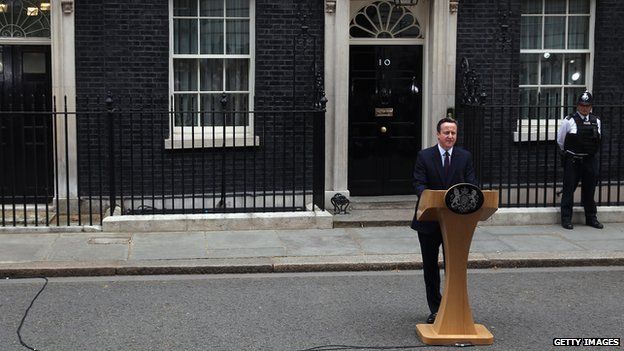 David Cameron has made Michael Gove the justice secretary and Mark Harper chief whip as he continues to put together his new Conservative government.
Mr Gove succeeds Chris Grayling, who moves to become leader of the Commons.
Nicky Morgan will remain as education secretary and minister for equalities.
The PM, who secured the first Conservative majority since 1992, has already said his chancellor, home secretary, foreign secretary and defence secretary will stay the same.
The Conservatives won a total of 331 seats at the general election, giving them a majority of 12 in Parliament and allowing Mr Cameron a much freer hand in deciding his top ministerial team than was the case during the past five years of coalition.
The new appointments join Chancellor George Osborne, Home Secretary Theresa May, Foreign Secretary Philip Hammond and Defence Secretary Michael Fallon in Mr Cameron's government.
Mr Harper has been given the crucial role of chief whip, responsible for liaising with backbenchers and maintaining party discipline.
He resigned from his post as immigration minister in February 2014 after he discovered that his cleaner was no longer entitled to work in the UK, but rejoined the government five months later as minister for disabled people.
By BBC political correspondent Eleanor Garnier
Michael Gove's appointment as justice secretary places him firmly at the top table of British politics.
It is a marked promotion from the job of chief whip, where he had been in charge of Conservative party discipline.
Mr Gove was removed as education secretary last year after repeated run-ins with the teaching unions and a reported spat with Home Secretary Theresa May - someone he will now have to work closely with once again.
As justice secretary, his responsibilities will include implementing the Conservative Party's pledge to scrap the Human Rights Act and replace it with a British Bill of Rights.
The aim is to give the UK courts and Parliament - rather than European institutions - the final say in contentious cases.
On Twitter, Ms Morgan said she was "delighted" with her re-appointment, which Downing Street said was a "huge vote of confidence".
Mr Gove, a former chief whip and education secretary, will be in charge of implementing the Conservatives' pledge to scrap the Human Rights Act and replace it with a British Bill of Rights.
He will also take on the role of Lord Chancellor.
BBC political correspondent Eleanor Garnier said the announcements were "a reward for loyalty" from Mr Cameron.
Making Mr Grayling, the former justice secretary, the Commons leader was a "gesture to the right wing of the party", she added.
A wider reshuffle is expected on Monday, with posts held by Liberal Democrats under the coalition yet to be filled.
Among MPs tipped for promotion include Jo Johnson, Boris Johnson's brother, while there is also speculation that the mayor of London, who is returning to the Commons after a seven-year absence, could also get some kind of role.
Mr Cameron is expected to promote a number of women having failed in his stated aim, set out before the 2010 election, of having women account for a third of ministerial positions by the end of the last Parliament.
Northern Ireland secretary Theresa Villiers, one of four women currently in the cabinet, said she would be "delighted" to remain in the post she has held since 2012 but would "happily" serve elsewhere.
Conservative backbencher Stuart Jackson said the prime minister was "the king of all he surveys" after guiding his party to its first majority since 1992 and he did not expect there to be the unrest on the backbenches that there was during the coalition.
"He has enormous political capital and with that he can choose his Cabinet and make his priorities as he sees fit," Mr Jackson told the Sunday Politics.
While the government's focus would be on the economy, Mr Jackson said he would also would also like to see political and constitutional reform, with the redrawing of parliamentary boundaries and a fresh look at the make-up of the House of Lords.
As Mr Cameron finalises his new government, Labour is beginning the search for a new leader.
Meanwhile, former Labour Treasury secretary Liam Byrne has acknowledged that a note he left for his successor before the 2010 election - saying "there is no money" - damaged Labour's re-election chances.
David Cameron repeatedly brandished a copy of the letter on the campaign trail, arguing that it showed Labour could not be trusted with the economy.
"Party members ask me: what on earth were you thinking? But members of the public ask: how could you do something so crass? And so bloody offensive?
"I've asked myself that question every day for five years and, believe me, every day I have burnt with the shame of it, nowhere more than when standing on doorsteps with good comrades, listening to voters demanding to know what I thought I was playing at."
"People's anger - and my party's anger - at me will never ever match my anger with myself or my remorse at such a crass mistake. I made it easy for our opponents to bash our economic record by bashing me."