#Milibrand reaction: Twitter ain't sure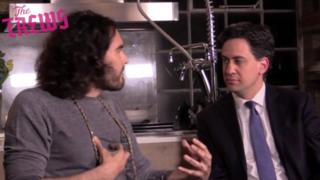 Russell Brand tweeted his much anticipated (among political journalists, at least) interview with Ed Miliband at precisely 13:42 on Wednesday. Within minutes, his #milibrand hashtag was trending and Twitter was abuzz with reaction. Here's a taste of what people were saying:
Much of the immediate reaction was about how Brand - perhaps unsurprisingly - was dominating the debate:
Kitchens have proved an uncomfortable topic for Ed Miliband is this election campaign, so the setting was surprising and a little distracting:
Those that could concentrate on the content found Ed Miliband's accent and choice of words intriguing:
The celebrity's line of questioning came under fire from several angles, particularly after he labelled Barack Obama a failure:
And the overall verdict? As divided as Twitter always is:
And like every much-anticipated event, several people were left underwhelmed:
Anyway, back to work everyone.