Election 2015: Conservative manifesto at-a-glance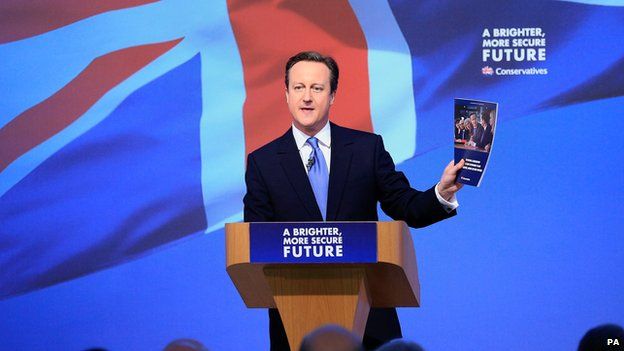 The Conservative Party has launched its manifesto ahead of the general election. The full document is available online. Here are the main things you need to know.
The front page of the Conservative manifesto gives their three key messages for the election: "strong leadership", a "clear economic plan" and a "brighter, more secure future".
David Cameron adopted an upbeat tone at the launch, saying he wanted to offer people in the UK a "good life". He said he wanted to "finish the job" of economic reform, having "rescued" the economy when he took power in 2010. And he described the Conservatives as "the party of working people".
The main pledges in the manifesto combine previous announcements and some new policies, announced at the launch. Here are some of the most important:
Extension of the right-to-buy scheme to housing association tenants in England
Plans to build 200,000 starter homes
Ensuring all people who work 30 hours per week on the minimum wage pay no income tax
Doubling free childcare allowance for three and four-year-olds to 30 hours
Increasing the inheritance tax threshold on family homes to £1m by 2017
No above-inflation rises in rail fares until 2020
An extra £8bn a year for the NHS by 2020
Opening 500 more free schools
An EU referendum by 2017
The party says mortgages, schools, hospitals and pensions are some of things that depend on a "strong economy". The manifesto says the Conservative Party will continue with its "long-term economic plan". Pledges on the economy include:
Running a surplus by 2018 so that the UK "starts to pay down its debts"
No rise in VAT, national insurance contributions or income tax
A crackdown on tax evasion and the "aggressive" avoidance of tax
Creating a "Northern Powerhouse" through investment
Spending £100bn on infrastructure in the next Parliament
The document says the Conservative Party is committed to helping people enjoy the "satisfaction and rewards of a decent job". Pledges include:
Achieving full employment by helping businesses create two million extra jobs over the course of the next Parliament
Creating 3 million new apprenticeships
Cutting £10bn of red tape over the next Parliament
Giving businesses "the most competitive taxes of any major economy"
Replacing Jobseeker's Allowance for 18-21 year-olds with a Youth Allowance time-limited to six months. After that, they will have to take an apprenticeship or traineeship or do community work to claim benefits
Requiring 40% of those entitled to take part in strike ballots to vote for a strike before industrial action can be held
Requiring companies with more than 250 employees to publish their gender pay gap - the difference between average pay for male and female employees
Increasing the minimum wage to £6.70 by the autumn and to £8 by the end of the decade
Investing £6.9bn in the UK's research infrastructure up to 2021
"Near universal superfast broadband" for rural areas
The manifesto launch paid significant attention to plans to reduce tax for low-paid workers and increase benefits for working parents. Some of the main pledges in this area include:
Taking everyone who earns less than £12,500 out of income tax
Passing a new law that would mean all those working 30 hours a week and earning the minimum wage will not pay income tax on earnings
Raising the threshold for the 40p rate of tax so that nobody under £50,000 pays the rate
A freeze on working age benefits for two years from April 2016 (exemptions for disability and pensioner benefits)
Lowering the benefit cap from £26,000 to £23,000 (with exemptions for those receiving Disability Living Allowance or the Personal Independence Payment)
Giving working parents of three and four-year-olds 30 hours of free childcare a week
The party says it still wants to see annual net migration in the tens of thousands. It pledges to reduce the incentive for EU migrants to settle in the UK by:
Negotiating new EU rules so people will have to be earning in the UK for four years before they can claim tax credits and child benefits
Introducing a four-year residency requirement for social housing for EU migrants
Ending the ability of EU jobseekers to claim any job-seeking benefits
Requiring EU jobseekers who have not found a job within six months to leave
The party says it will also:
Insist new EU member states' citizens do not have free movement rights "until their economies have converged much more closely with existing member states"
Cap the level of skilled migration from outside the EU at 20,700
Extend the "deport first, appeal later" principle to cover all immigration appeals and judicial reviews, apart from asylum cases
The Tories pledged at the weekend to spend an extra £8bn per year on the NHS. Other manifesto commitments include:
Investing £7bn over the course of the next Parliament to provide "good school places"
Opening at least 500 new free schools and turning failing schools into academies
Protecting the schools budget; increasing the amount spent on schools as the number of pupils increases
Scrapping the cap on higher education student numbers
Providing same-day GP appointments for over 75s
The right to a named GP
Integration of health and social care systems
Heritage, sports and government
Keep major museums and galleries free to enter
Freeze the BBC licence fee
Guarantee those who work for a big company and the public sector entitlement to Volunteering Leave for three days per year
End taxpayer-funded six-figure pay-offs for the best-paid public sector workers
Reduce number of MPs to 600
Introduce English votes for English laws
Give English MPs a veto over matters only affecting England
Implement the recommendations of the Smith Commission, set up to consider new powers for Scotland after the independence referendum
Increase some powers for the Welsh Assembly
Devolve corporation tax powers to the Northern Ireland Assembly
The Conservatives pledge to:
Toughen sentencing and reform the prison system
Create a Victims' Law that will enshrine key rights for victims, including the right to make a personal statement and have it read in court before sentencing and before parole hearings
Scrap the Human Rights Act, and introduce a British Bill of Rights
Strengthen counter-terrorism powers
Create new Extremism Disruption Orders, which the party says would help target those trying to radicalise young people on social media
Increasing the inheritance tax threshold for married couples and civil partners to £1m
Continuing to increase the state pension through the triple lock system, meaning it rises by at least 2.5%
Capping charges on residential care
Introducing a single-tier pension
Protecting pensioner benefits like free bus passes and the winter fuel payment
Foreign affairs and defence
As well as an in/out referendum on EU membership by the end of 2017, the party pledges to:
Protect the UK economy from further integration with the eurozone while reclaiming other powers from Europe
Uphold commitment to spend 0.7% of gross national income on international development
Maintain the size of the regular armed services and not reduce the Army to below 82,000
Expand armed forces reserves to 35,000
Retain Trident and build a new a new fleet of nuclear submarines
Giving Parliament a free vote on repeal of the Hunting Act
Ending any new public subsidy for onshore wind farms
The party says it will respond to the Airports Commission's final report - but makes no specific reference to Heathrow expansion
What the other parties say
Labour leader Ed Miliband: "The reality about the Conservative Party is that they are the party not of working people. First, last and always they are the party of the richest in our society and that is absolutely the case with what they are saying today."
Lib Dem leader Nick Clegg: "I don't think a sudden, screeching U-turn where they now want to spray the country with warm words is going to in any way hide the fact that the Conservative Party wants to cut, cut, cut way beyond what is necessary."
UKIP leader Nigel Farage: "It's a re-hash of so much that was said in 2010 and has not been delivered upon, with a new initiative on housing which will do nothing to guarantee those homes go to British people or solve our housing crisis, and perhaps most worryingly of all no commitment to Britain's defence whatsoever."
SNP leader Nicola Sturgeon: "George Osborne and David Cameron have missed every single one of their fiscal targets. I agree we need to get the deficit down, but we need to do that in a way and at a pace that allows us also to invest in the NHS and growing our economy faster and lifting people out of poverty."
BBC political editor Nick Robinson: "This week of political cross-dressing goes on. David Cameron tried to re-brand the Conservatives as the party of working people - the day after Ed Miliband claimed that Labour was the party of economic responsibility." Read more from Nick here.
Institute for Fiscal Studies director Paul Johnson: "The prime minister confirmed - almost in passing - that the Conservatives are looking for a budget surplus by 2018. To get to budget surplus by 2018 will require tens and tens of billions of pounds worth of spending cuts or tax increases, and of course we got no detail whatever of what those might look like."
John Cridland, CBI director-general: "Progress has been made in cutting the deficit over this Parliament, and the Conservative Party's clear plans to continue the path of deficit reduction are welcome. Business will want clarity over how manifesto commitments will be funded."
The Telegraphs Will Heaven: "The Tory manifesto basically offers a "cradle-to-grave" approach, just like the founding document of the welfare state, the 1942 Beveridge Report. David Cameron's earlier speech also emphasised that theme. "We are the party of working people, offering you security at every stage of your life," he said. Ed Miliband, or any Labour leader since the Second World War, could have uttered that sentence. Because in 16 words, Mr Cameron has basically nicked the Labour Party's mission statement. He has stolen its soul."
The Guardian's Zoe Williams: "There is a considerable accent in the Conservative manifesto on creating a hopeful mood: new jobs, new apprenticeships and the right to buy housing association stock. These three promises between them speak to the voting holy grail, the "working family", those normal people whom the debate overall finds so elusive."