Election 2015: Farage unveils UKIP fishing reform plan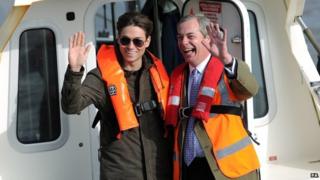 UKIP has proposed a UK-controlled fishing zone to replace involvement in the EU Common Fisheries Policy.
Leader Nigel Farage told an audience in Grimsby that a system similar to that operating in Norway could revitalise Britain's fishing industry.
"When Britain leaves the European Union, Grimsby will once again be a great fishing port," Mr Farage said.
The Conservatives accused UKIP of failing to support UK fisherman in the European Parliament.
During his visit to Lincolnshire, Mr Farage also met TV star Joey Essex. The UKIP leader said he could help inform youngsters' opinions on politics.
UKIP's policy on fishing includes preserving UK territorial waters within the "12-mile limit" around the coast for British fishermen, and creating a 200-mile Exclusive Economic Zone under UK control.
'Thriving industry'
Mr Farage told the audience at the Lincolnshire town that such a zone in Norway meant: "All the fish that swim and spawn in those areas are the possession of the Norwegian nation.
"Norway has a thriving fishing industry. The fishing industry there employs tens of thousands of men and women.
"What we have done, as a result of membership of the Common Fisheries Policy, we are now allowed to catch less than 20% of the fish that swim in British waters. The other 80% we have given away to the rest of Europe."
That was why Grimsby has been reduced to 15 fishing boats, he said.
Grimsby remains an important fish-processing centre, with seafood producer and distributor Young's based there.
Mr Farage said that processors in Grimsby can import up to 100% of the fish they deal with from Iceland and Norway, before adding: "Have you noticed Iceland and Norway are not members of the European Union?"
The Common Fisheries Policy was introduced in the 1970s and has been altered several times; the most recent of which took effect on 1 January 2014. It aims to give all European fishing fleets equal access to EU waters and fishing grounds, while setting catch limits to maintain stocks.
A Conservative party spokesman said UKIP had broken its promises when it came to supporting the UK's fishing industry.
"Nigel Farage had an opportunity to influence legislation as a member of the European Parliament's Fisheries Committee for three years - but he attended just one of 42 meetings," he said.
Mr Farage met Joey Essex at Grimsby docks, where the TV star was filming the latest episode of his documentary on politics.
"Over half the young people in Britain don't vote at all," Mr Farage said.
"If some of the icons of youth like Joey here can actually look at this, spend a bit of time, understand this, and inform an opinion, perhaps you'll get more young people voting."
Essex also described Mr Farage as "reem", a slang term for "cool".
Subscribe to the BBC Election 2015 newsletter to get a round-up of the day's campaign news sent to your inbox every weekday afternoon.