Election 2015: Campaign fire exit trick 'risks lives'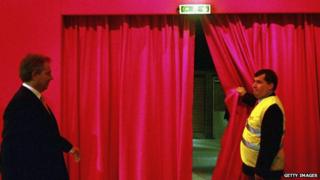 Campaigning politicians could be putting lives in danger by using one of the oldest tricks in the political PR book, fire officers have warned.
They say disguising "exit" signs to avoid embarrassing photos could lead to voters getting trapped or lost if a fire breaks out in a room where politicians are appearing.
Covering up the signs is an important job of party spin doctors of every stripe - so their candidate isn't photographed walking under a sign that suggests they should be on their way out, rather than in.
A spokeswoman for the Association of Chief Fire Officers said: "Obstructing a fire exit, or covering an exit sign is a serious matter.
"It puts people at risk of getting trapped or lost if a fire breaks out.
"We encourage anyone who spots a covered-up exit sign or blocked fire exit to report it to their local fire and rescue service."
Ed Miliband was one party leader whose staff covered a sign with black card on Thursday when he made an appearance at Bury town hall in Greater Manchester.
After Mr Miliband left, the covering on the exit sign was taken away.
The Isle of Wight's Conservative candidate, Andrew Turner, was pictured underneath an exit sign recently after his local association elected a new chairman - whose predecessor had voted to depose Mr Turner as the island's MP.
Dylan Sharpe, a former press officer for Boris Johnson and the No to AV campaign, said he had once gone further than covering up a sign - having it unscrewed and taken from the wall.
However, he said he was not working for any politician at the time.
The rules governing signs above fire exits in England are set out in the Regulatory Reform (Fire Safety) Order 2005.
It says businesses and other non-domestic premises must have a "responsible person" for exit routes in the case of a fire, and making sure they are kept clear at all times.
"Emergency routes and exits must be indicated by signs; and emergency routes and exits requiring illumination must be provided with emergency lighting of adequate intensity in the case of failure of their normal lighting," say the regulations, but they do not contain a specific provision against covering up signs.
Other candidates for the Isle of Wight include Stewart Blackmore (Labour), David Goodall (Liberal Democrat), Vix Lowthion (Green), Iain McKie (UKIP), and Ian Stephens (independent). The deadline for nominations is 9 April.