Why housing matters in this election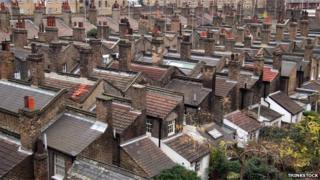 Housing is a major concern for voters in this election - whether they are owners, potential buyers or renters- and the health of the property market is a key factor in the overall wellbeing of the UK economy.
Housing is a devolved power in Northern Ireland, Scotland and Wales.
What's at stake?
The vast majority of the 27.8 million homes in the UK are owned by the people who live in them. Since 1980, property prices have risen on average by 6.9% a year - outstripping average wages and thus making a first step onto the property ladder more difficult. Many are renting a home while they save for a deposit, which is typically 19% of the value of a home.
Yet demand is rising - due to a growing population and shrinking average household size. The number of new homes built today is half that which went up in the post-war years. Targets have been missed consistently. Local authorities build only a fraction of the 100,000 homes a year they used to develop until the late 1970s.
Housing is a devolved issue. Some policies are specific to certain parts of the UK, others are UK-wide. The housing market itself varies hugely depending on location.
What are the numbers?
At the end of 2014, the average home was valued at £272,000, according to the ONS. This ranged from an average of £502,000 in London to £153,000 in NE England. Home sales in 2014 numbered 1.22 million, down 450,000 from the 2006 peak. Last year, some 28% were for cash only - no mortgages involved.
Record low interest rates have kept mortgage costs down and repossessions low. The 2011 Census showed 40% of UK residents lived in a home with a mortgage, 26% owned their property outright, 15% rented privately and 8% rented from a local authority or equivalent.
Others may live in care homes, student halls of residence, prisons and so on.
Reliable data on the cost of renting a home is scarce, but the ONS says that rental prices paid by private tenants rose by 1.7% in Britain in 2014.
UK housing market
£272,000
cost of an average home
3.39 times income - typical home loan of a first-time buyer

28% of households are occupied by someone living on their own

1.37m households on the social housing waiting list in England

118,760 new homes completed in England in 2014
GETTY IMAGES
What won't the politicians be saying?
The number of homeless, living on the streets is going up. The estimated number of rough sleepers rose by 37% in England between 2010 and 2013, according to the Joseph Rowntree Foundation.
Little is said about re-banding of the council tax which, in England, is based on property values in 1991, since when properties have risen massively in value.
The timing of any rise in interest rates will have a direct impact on housing costs - but that is a decision for the Bank of England, independently, not politicians.
What has happened since 2010?
Property prices "recovered" at very different pace across the country. For example, in 2014 they rose by 13.3% in London, but by 4% in NW England
Help to Buy scheme uses government loans to help those struggling to raise deposit. First phase, which excluded Northern Ireland, for buyers of newly built homes. Second, UK-wide phase, sees government guarantee part of the mortgage offered by a traditional lender
Stamp duty reformed from a stepped system to a graduated tax. In Scotland, it is due to be replaced with the Land and Buildings Transaction Tax in April.
Stricter mortgage affordability rules introduced by the Financial Conduct Authority
---
What do the experts say?
"For years, successive governments have consistently failed to build enough homes to keep up with demand, leaving a whole generation of young people trapped in their childhood bedrooms or paying dead money to landlords while their dream of a stable future slips out of reach" - Campbell Robb, chief executive of housing charity Shelter
"Council tax needs to be reformed. The tax in England is now levied on the basis of property values in 1991 and has decayed to the point where it lacks credibility… [T]he system of national bands… fails to reflect local variations in property prices, often resulting in virtually all properties within an area crowding into one or two bands." - Independent Commission on Local Government Finance