Sats results: Standards slip in Year 6 tests
By Hazel Shearing
Education correspondent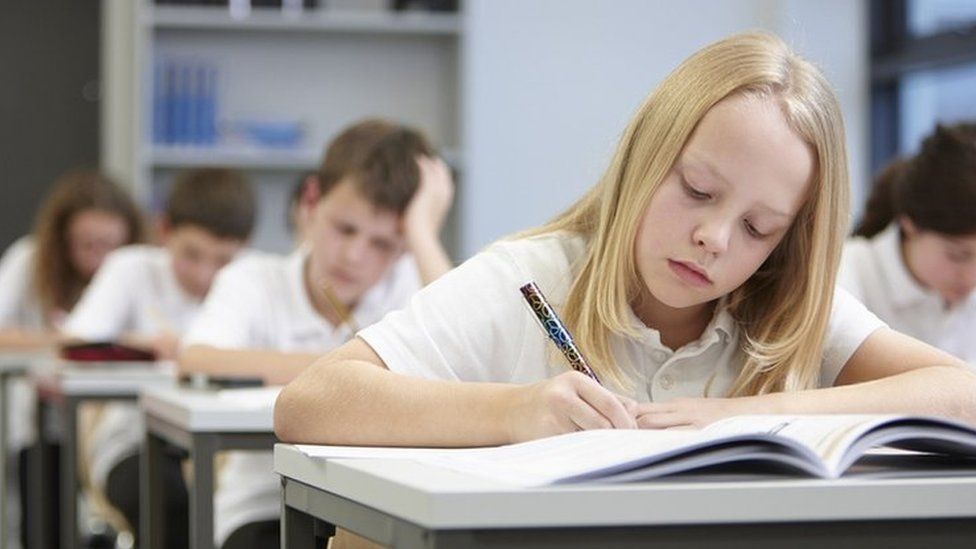 Overall standards in reading, writing and maths have slipped among Year 6 pupils in England since the pandemic, according to Sats results.
They show 59% of pupils met the expected level in these combined areas this year, down from 65% in 2019.
The national curriculum tests were cancelled in 2020 and 2021.
The government says the Sats results were "expected due to the impact of the pandemic" and that there is "more work to do" to help pupils catch up.
By 2030, it wants 90% of children leaving primary school to reach the expected standards in reading, writing and maths.
Unions have called for further investment in schools and teaching staff in order to achieve that target.
The pupils who took Sats this summer - mostly 11-year-olds - were part-way through Year 4 when schools first closed to most children in March 2020.
Results from individual subjects suggest that reading levels increased slightly - with 74% of pupils meeting the expected standard, up from 73% in 2019.
But the proportion of pupils reaching the expected level has fallen in all other subjects since 2019:
71% in maths, down from 79%
69% in writing, down from 78%
72% in grammar, punctuation and spelling, down from 78%
79% in science, down from 83%
Minister for School Standards, Robin Walker, said of this year's results: "While this is disappointing, it was expected due to the impact of the pandemic.
"The government recognises, and values, the work that teachers up and down the country are putting into education recovery, but also understands that there is more work to do."
He added that £5bn has been allocated to help pupils catch up, and that children falling behind in English and maths would "receive the right evidence-based targeted support to get them back on track".
The amount of learning disrupted because of Covid varies significantly across England, and the poorest pupils have fallen further behind than the better-off, according to a report for the government by the Education Policy Institute and Renaissance.
Paul Whiteman, general secretary of the National Association of Head Teachers, expressed caution about this year's Sats data because "some families and school communities [were] hit far harder than others" by the pandemic.
"It's important to remember that the support schools have put in place has not only been focused on academic progress, but also on social and emotional recovery too," he said.
Geoff Barton, general secretary of the Association of School and College Leaders, said the fall in maths and writing standards reflected "the huge importance of direct classroom teaching in these subjects - which has, of course, been heavily disrupted".
He said the government's 2030 targets would "require substantial investment in schools and the teaching workforce".
He added that it was "hard to see how this can possibly be achieved" under current plans.
Stephen Morgan, Labour's shadow schools minister, said: "While school staff have worked hard to mitigate the pandemic's impact, the government's decision to short-change post-pandemic support threatens to cast a long shadow over opportunity and attainment for children."