GCSE and A-levels: Mistakes in papers caused 'pupil distress', Ofqual says
By Alice Evans & Nathan Standley
BBC News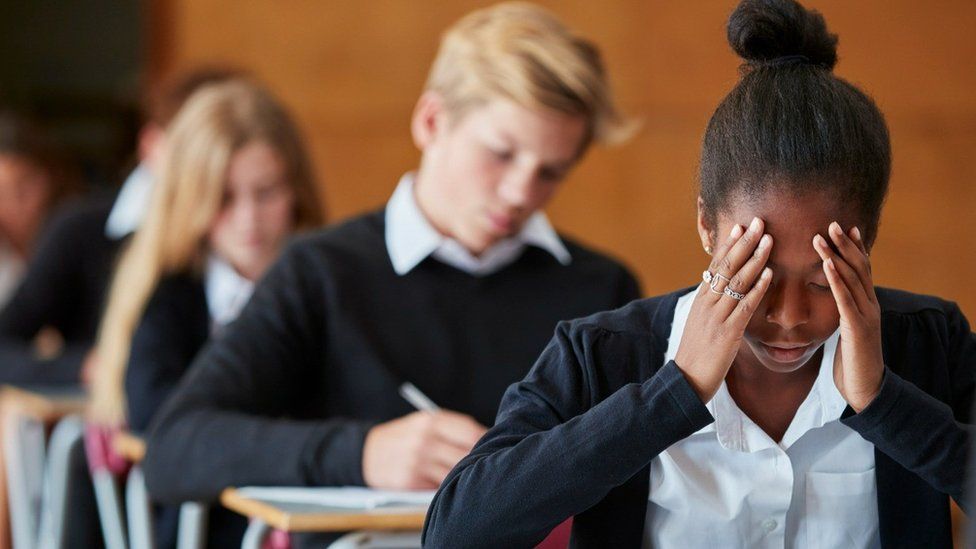 Exam boards have been criticised by a watchdog for oversights on GCSE and A-level papers where pupils were tested on topics they were told would not come up or sat papers with mistakes.
In England students were given extra detail because of the pandemic.
But an AQA A-level law and GCSE physics paper included topics not listed in "advance information".
Watchdog Ofqual said such mistakes caused "distress" for pupils.
Another exam board, Edexcel, has apologised for labelling Gabon as the Republic of Congo on a map of Africa, in its GCSE geography paper.
On Friday, AQA said sorry to A-level law students for the "confusion and stress" after questions on nuisance were included in their paper, despite there being no advance warning that the subject would be included in the exam.
The exam board has not yet announced how the question will be marked.
"The fairest way to address this is for us to look at how students performed on this paper after we've marked it, and we'll take any action necessary to protect them," a spokesperson for AQA said.
Coralie Foster, from Bolton, said her daughter was "more angry than upset" at the surprise question in the A-Level law paper on Monday.
She added: "Nowadays these university offers are so high - so the pressure on these kids to get the top grades is immense.
"Advance information was meant to help focus that work, but it's all been completely undermined."
'Disappointed and disadvantaged'
Last week AQA apologised for a question on energy transfers and circuits that appeared in a GCSE physics paper. Circuits had not been included as a topic for revision in the advance information.
The board said it would give all students full marks for that question.
GCSE student Eddie, from Greater Manchester, took the physics paper on 9 June, and said he was "disappointed" with AQA's response.
"I don't know how they could make a mistake like that," he said.
He said awarding full marks had rectified the error "somewhat", but believes it will not fully account for the students who spent extra time trying to answer the unexpected question.
"Pupils came home upset, disappointed and disadvantaged. It's just thrown a lot of spanners into the works," he said.
Speaking to the Confederation of School Trusts' annual conference on Friday, Jo Saxton - Ofqual's chief regulator - said the idea of providing advance information to help students prepare for exams had "taken the stress off of [pupils'] shoulders".
But she added: "They love the idea of the advance information, but the reality is they found navigating it, in many cases, just one other thing to think about.
"I absolutely understand the distress that mistakes in advance information and exam papers cause."
In 2020 and 2021, students were graded based on assessments made by their teachers, with exams cancelled in order to reduce the spread of Covid.
Under the teacher assessments, more students passed exams and achieved higher marks, with record numbers in England, Wales and Northern Ireland securing top A-level grades.
Although grades will be awarded normally this year, grade boundaries will be more lenient in England, Scotland and Wales. They will be set at a "mid-point" between the 2019 pre-pandemic boundaries and the grade levels used in teacher assessments in 2021.
However, much of the support for exams this year will be scrapped in 2023.
Correction: An earlier version of the story said AQA was criticised by Ofqual but the watchdog criticised exam boards, not specifically AQA.