Free speech row prof Kathleen Stock: Protests like anxiety dream
By Eleanor Lawrie
BBC News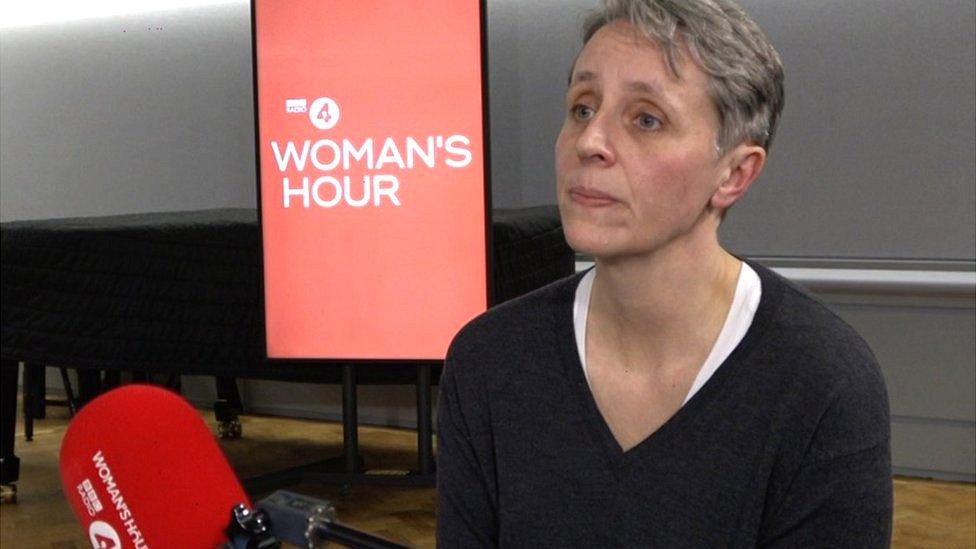 A university professor accused of transphobia for her views on gender identity has said protests against her were like a "terrible anxiety dream".
In a BBC interview, Kathleen Stock, who rejects the claim, said she quit her University of Sussex post following "reputation trashing from colleagues".
She said it had been surreal to see her name "plastered over every wall" on student protest posters.
The university said it unequivocally defended her right to free speech.
Vice-chancellor Professor Adam Tickell told staff in an email he had hoped Prof Stock would have felt able to return to work, and she would have been supported.
But the philosophy professor told BBC's Woman's Hour the campaign against her was the "end point" of years of negative treatment by colleagues that had become "exhausting".
Prof Stock, who recently published a book questioning the idea that gender identity is more "socially significant" than biological sex, said her views had been "radically misrepresented" to suggest she was bigoted or transphobic, something she categorically denies.
But an online statement accompanying the campaign against her suggested Prof Stock "has spent years campaigning for the exclusion of trans people from 'women's only spaces' and against trans and non-binary people's right to self-identify as any gender".
It also criticised her trusteeship of the LGB Alliance, which describes itself on Twitter as promoting "the rights of lesbians, bisexuals & gay men, as recognised by biological sex". The group is described by trans activists as transphobic, which it denies.
In the interview aired on Wednesday, Prof Stock said: "In almost every university... there are a small group of people who are absolutely opposed to the sorts of things I say and instead of getting involved in arguing with me using reason, evidence - the traditional university methods - they tell their students in lectures that I pose a harm to trans students.
"They go on Twitter to say that I'm a bigot so thus creating an atmosphere in which students become much more extreme and much more empowered to do what they did, I guess."
In October, posters were put up near the university campus and an accompanying social media campaign claimed Prof Stock "makes trans students unsafe". Photos also showed a masked protester standing on the university's sign with a banner reading "Stock out".
Prof Stock told Woman's Hour presenter Emma Barnett the effect of the protests was "head spinning" and "like some sort of surreal terrible anxiety dream to see your name plastered over every wall".
She described a protest at an open day when about 100 students were holding placards saying "Stock out", ''Fire her", with flares being set off.
"I don't know if I can explain it but you have to imagine yourself at your workplace… all eyes are on you, all fingers seem to be pointing at you, it's like a medieval experience," she said.
"At that point I wasn't scared so much as incredibly distressed."
The professor said she had received hundreds of letters of support and accused her critics of being "out of step" with the public.
The "tipping point" that led to her resignation, she said, was when the Sussex branch of the University and College Union (UCU) released a statement which "basically backed the protesters and implicitly made it obvious that they thought I was transphobic and accused Sussex University of institutional transphobia".
She had previously tweeted a screenshot of a message purportedly sent to all Sussex UCU members which didn't name her personally but urged university management to "take a clear and strong stance against transphobia at Sussex", including an "urgent investigation".
The national branch of the UCU released a follow-up statement saying it was a "proud and unequivocal supporter of trans rights", opposed harassment and bullying and was "not calling for any staff to be dismissed from their post".
The University of Sussex said it had publicly and internally fully supported Prof Stock's freedom of speech and would not tolerate the bullying and harassment of anyone in its community.
Equalities minister Liz Truss and chair of the Equality and Human Rights Commission (EHRC) Baroness Kishwer Falkner both criticised the attacks on Prof Stock.
Higher and further education minister Michelle Donelan said the campaign of harassment against her was "deplorable" and the situation should never have got that far.