GCSE results 2021: Record passes and top grades
By Jeanette Long, Eleanor Lawrie, Hannah Richardson, Sean Coughlan
BBC News education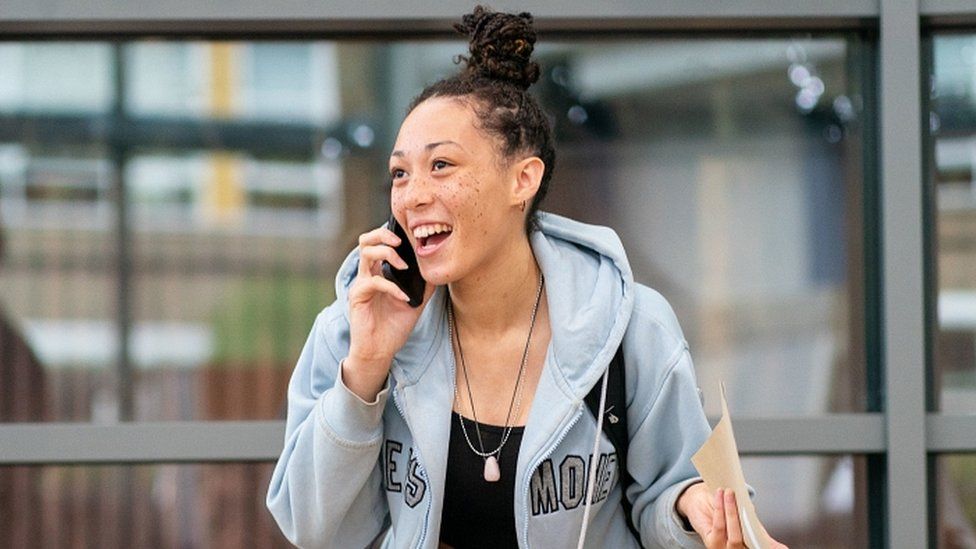 GCSE students have received another set of record grades, in the second year of Covid disruption to exams in England, Wales and Northern Ireland.
Top grades (7/As and above) rose to 28.9% from 26.2% last year, while grades 4/Cs and above - seen as passes - rose to 77.1% up from 76.3%.
This is a smaller rise than last year, the first time exams were cancelled and teacher assessed grades were used.
Exams regulators have insisted the process has been fair and thorough.
Teachers submitted grades for the more than half a million pupils on GCSE courses this year, using evidence such as mock exams, course work and tests.
Girls moved further ahead of boys - 33.4% of girls' results grade 7/A, 24.4% for boys
Northern Ireland had highest grades
In England, independent schools had biggest increase in top grades - 61.2% of results at grade 7/A, compared with 26.1% in comprehensives, 28.1% in academies
Pupils eligible for free school meals slipped slightly further behind
London had most top grades in England, north east the least
3,606 pupils got all grade 9s
There are different devolved systems for GCSEs:
English exam boards use a numeric 1-9 for grades
Wales uses alphabetic A to G grading system
pupils in Northern Ireland take a combination of both
The two years of replacement grades, after exams were cancelled in the pandemic, have had significantly higher results, for GCSEs and A-levels.
Exam officials say it reflects that no one has had a bad day in an exam and that pupils had multiple chances to show their best potential.
England's exam watchdog Ofqual said the system was fair, each centre had its assessment policy reviewed and samples of work were checked during a "quality assurance" process.
Exam boards say that below 1% of grades were changed in the checking process.
As well as getting GCSEs, more than half a million vocational qualifications were also issued, including for 230,000 BTec students.
Schools Minister Nick Gibb defended the way GCSE results had been awarded, saying this had been a "very different year" and it was right that exams were cancelled.
"This was the best alternative to exams," he told BBC Breakfast. "I think people can be confident of the grades that have been awarded this year."
Mr Gibb said longer term, he wanted to get back to a pre-pandemic system where there are no "significant changes" year-on-year in the grades awarded to students.
Labour's Shadow Education Secretary Kate Green said the exam results were a "stark warning" of a widening social divide.
"Children on free school meals have been abandoned by this government and students in state schools are again being outstripped by their more advantaged private school peers," she said.
Jon Andrews of the Education Policy Institute think tank warned the higher results should not "distract us from the huge learning losses that students have faced".
"There is a risk that higher grades awarded to young people conceal the underlying losses that they have experienced from the pandemic."
Prof Alan Smithers, of the Centre of Education and Employment Research, at Buckingham University, said it would be difficult for the government to reverse the trend of increasing grades over the coming years - as the higher grades are popular with parents and schools.
"It will be quite a task for the government to put the genie back into the bottle," he said.
But head teachers say the replacement grades used this year will allow pupils to progress to the next stage of their education.
National Association of Head Teachers leader Paul Whiteman said it was important that these pupils have access to any additional academic or pastoral support they need as they progress into the next stage of their education.
Geoff Barton, of the Association of School and College Leaders, said: "It is important to focus on the achievements of this cohort rather than fixate on comparisons with other years, which are somewhat meaningless."
Syeda had been hoping for high grades after sitting 62 assessments, instead of the usual exams, at Sydney Russell School in Dagenham, east London.
And her hopes have been realised. "I did it. I got all 9s in my GCSEs and two distinctions," she said.
"It's the best possible results and I'm so proud of myself. I think there is a big sense of relief."
Her mum, Shahima came to the school with her to share the experience.
She says: "I'm extremely, extremely proud of Syeda. She's put so much effort and hard work into this and lots of sleepless nights."
"It has been a bit crazy for everyone involved in this process this year," she says.
Roman is celebrating four grade 7s and four grade 8s in his GCSEs.
"I'm definitely satisfied, but in a sense I feel I've been bumped down a few grades due to some exams being very different and out of the ordinary this year compared to other years."
He says the challenges he's faced over the past two years have had an impact.
"It's been a rollercoaster. So many ups and downs and so many battles, both mental battles and physical ones."
He says he would actually have preferred to sit exams as he feels one exam at the end would have been easier than the constant pressure of lots of tests.
"I don't think anyone could have ever imagined stuff like this," she says
"But the fact is that we have got through it - and hopefully our results tomorrow will prove that we have worked hard."
To those people who criticise the value of this year's grades, Syeda says: "I would tell them they should try and be in our place."
"I don't think anyone can know what it is like unless you are experiencing it yourself."
She is aiming to sit A-levels next year and study English literature at the University of Cambridge.