Reckless to scrap BTecs, educators warn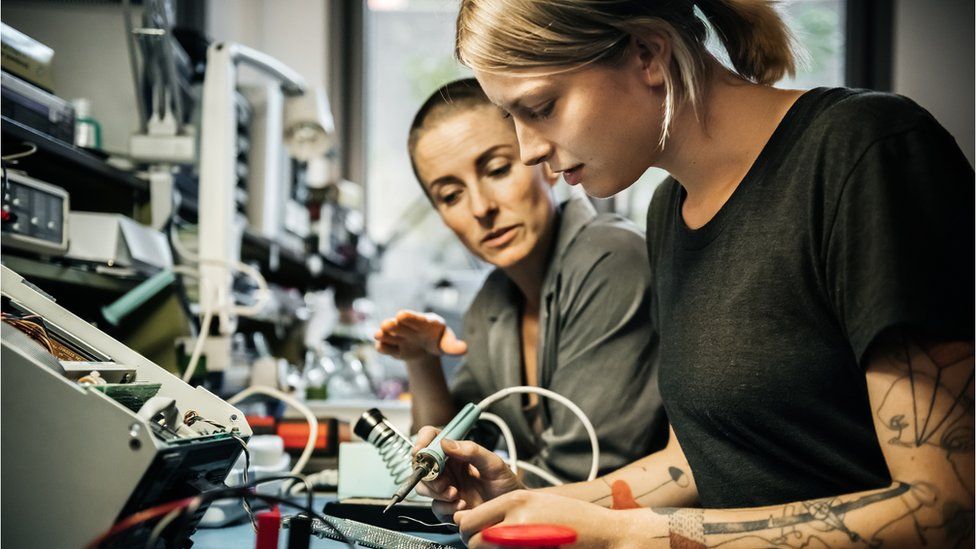 BTec qualifications should not be scrapped in England, say groups representing students and staff in schools, colleges and universities.
The plea comes as the Department for Education confirmed plans to introduce new technical qualifications in England and scrap most BTecs.
The department says the reforms will simplify and streamline the system.
But education leaders warn getting rid of BTecs is "reckless", as it will harm the prospects of poorer pupils.
Twelve organisations have written to Education Secretary Gavin Williamson urging him not to ditch BTec qualifications.
They estimate that at least 30% of 16 to 18-year-olds studying for a Level 3 qualification in England (the equivalent of A-levels) are doing vocational qualifications such as BTecs.
This equates to around 259,291 young people.
The letter states that a review into the proposed changes ignored the widespread concerns expressed about getting rid of BTecs.
"Many young people will be adversely affected by this proposal, but disadvantaged students have the most to lose, a conclusion that your department's own equalities impact assessment supports", the letter warns.
It describes qualifications like BTecs as "engines of social mobility" and cites research from the Social Market Foundation, which found 44% of white working-class students entered university with at least one BTec and 37% of black students entered with only BTec qualifications.
The organisations say: "It is impossible to square the government's stated ambition to 'level up' opportunity with the proposal to scrap most BTecs."
BTecs are vocational qualifications taken after GCSEs, providing work-based skills in a range of areas such as healthcare, business and engineering.
Earlier this month, the Department of Education confirmed that apprenticeships, A-levels and T-levels - new, two-year technical courses which are the equivalent of three A-levels - will become the main options for pupils in England after GCSEs.
As a result, funding for most BTec qualifications will be removed.
The new system, which has been given the green light after a consultation with the education sector, students and parents, will be phased in between 2023 and 2025.
But Geoff Barton, general secretary of the Association of School and College Leaders, said it would be "reckless" of the government to ditch BTecs simply to clear the way for T-levels.
"Applied general qualifications give many disadvantaged young people an established route to higher education, apprenticeships and future careers."
James Kewin, deputy chief executive of the Sixth Form Colleges Association, said: "Applied general qualifications like BTecs are popular with students, respected by employers and provide a well-established route to higher education or employment.
"So it is hard to fathom why the government wants to scrap most of them and force young people to choose between studying A-levels or T-levels from the age of 16."
Dr Patrick Roach, general secretary of the NASUWT teaching union, said: "At a time when young people need more support than ever to realise and rebuild their futures, scrapping these qualifications is a retrograde step which will damage the prospects of the most disadvantaged students.
"We should be expanding the pathways for young people to succeed and flourish, not closing them off."
The DfE has said employers would play a key role in helping to design technical qualifications so they deliver the skilled workforce that businesses need.
Mr Williamson said: "These reforms will simplify and streamline the current system, ensuring that whatever qualification a young person or an adult chooses, they can be confident that it will be high-quality and will lead to good outcomes."