Huge surge in number of pupils sent home due to Covid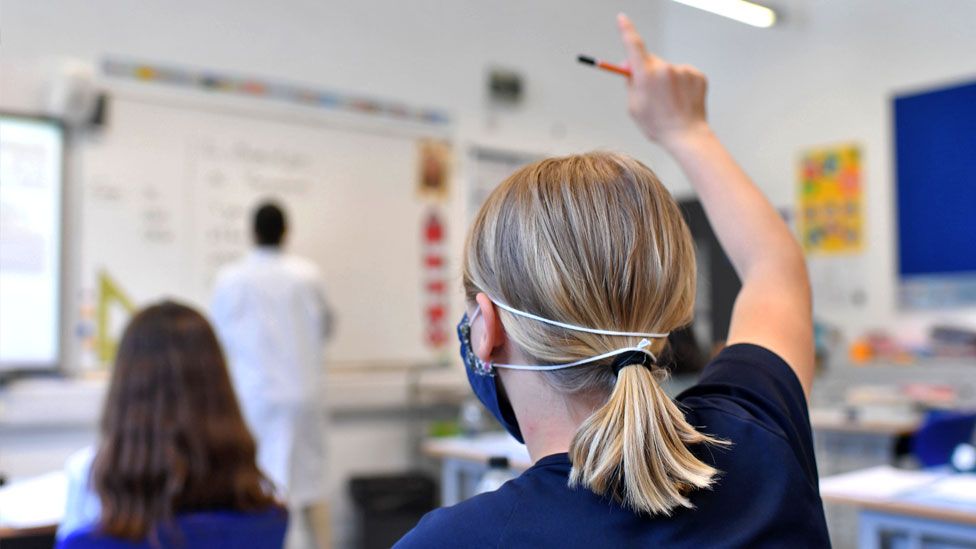 Covid-related pupil absence in England has hit a new high since all students returned to school in March this year.
Over 640,000 pupils in England were not in school due to Covid last week - up from 375,000 the week before.
Of these, just 62,000 were confirmed or suspected Covid cases.
The statistics come as England's Education Secretary Gavin Williamson said the system of sending whole "bubbles" home after a positive case would be scrapped at the end of term.
The Department for Education figures show the highest number of Covid-related absences since the return to school in March, with 8.5% of children out of school on 1 July, up from 5.1% on 24 June.
561,000 children self-isolating due to a possible contact with a Covid-19 case
34,000 pupils with a suspected case of coronavirus
and 28,000 with a confirmed case of Covid-19
a further 18,200 pupils are out of school due to their school being closed.
This takes the total number of children not in school in England to 641,200.
In primary schools, Covid-related absence was 7.4% on 1 July, up from 4.5% on the previous week.
While in secondary schools - where the data is adjusted for the fact that Year 11s and Year 13s have now finished school - Covid-related absence was 10.4%, up from 6.2% on 24 June.
Nick Brook, deputy general secretary of school leaders' union NAHT, said the latest figures made for "grim reading".
"Whilst the government might argue that scrapping bubbles and changing rules around self-isolation will reduce the number of pupils missing education, we should be equally worried about the significant rise we have seen in confirmed and suspected cases in a single week," he said.
"These latest figures only serves to demonstrate why the government must take urgent action and put alternative measures in place to keep school communities safe."
Julie McCulloch, director of policy at the Association of School and College Leaders, said the rise in absence was "massive".
"The vast majority of these absences are children who are self-isolating not because they necessarily have the virus themselves, but because of potential contact with a positive case," she said.
"It highlights why the government's rules on Covid management in schools and colleges must change in order to end this educational disruption, and the prime minister yesterday confirmed this will happen as part of the step 4 roadmap in England."
A parent's concerns: 'He's missed a term's worth'
George Hebdith's 13-year-old son Zack has missed just over six weeks of his education since September because of having to self-isolate.
"Zack has never tested positive for a case in the three instances where he has been isolating so I would argue, on his behalf, he's been sent home unnecessarily," says Mr Hebdith, from north-east London.
This has had a negative impact on his education, his well-being and his relationships with his friends, he adds.
Although Zack isn't taking public exams this year, his father worries about the long-term impact of missing so much school.
"He's in Year 8, it's probably not one of the more important years, but who is going to remember this when he does his GCSEs in a couple of years' time.
"He's missed a whole term's worth of learning. How is that to be caught back up? How is that going to impact him in the future?
"If the way it's done for the next academic year is the same, then what's to stop it happening again, then this is going to snowball."
Mr Hebditch says the emphasis needs to change in September from sending them home "just in case" to "keep children in school".
"Rather than being like it is now, which seems to be to isolate for the protection of the wider community."
He says children should only be sent home if they have symptoms or test positive for Covid.