Eviction ban: A million are in fear of losing their homes, charity says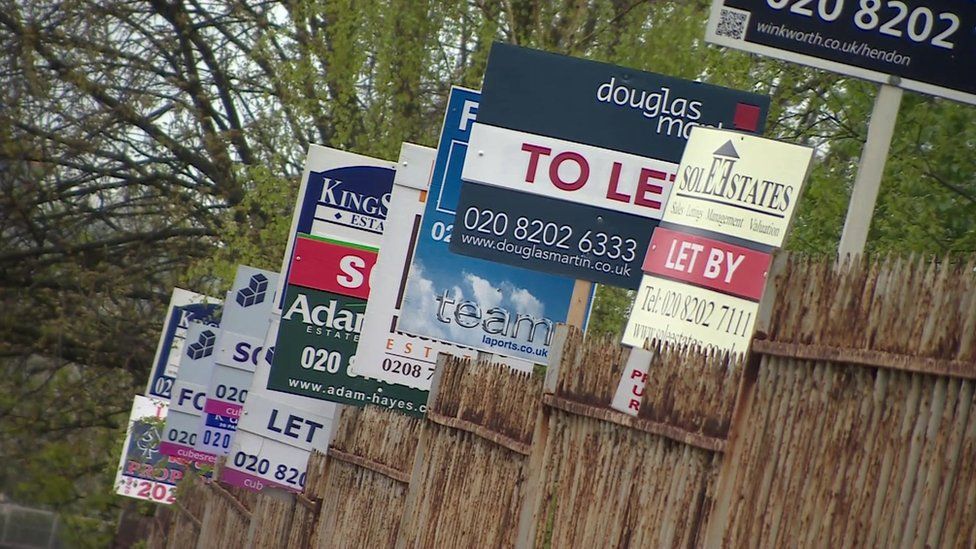 As England's coronavirus eviction ban comes to an end on Monday, around a million households fear losing their homes, a charity says.
About 400,000 renters have had eviction notices or been told to expect them, the Joseph Rowntree Foundation says.
One renter in arrears told the BBC his landlord has "the power to just flick their finger and get me out".
But a landlord said she had struggled to pay her mortgage while her tenant was not paying rent.
The government said it was balancing the needs of landlords to use the courts with support for tenants by continuing to require extended notice periods.
During the pandemic, bailiffs were asked not to carry out evictions if anyone living in the property had Covid-19 symptoms or was self-isolating.
Eviction notice periods were extended to six months as an emergency measure during the pandemic - but will drop to four months from 1 June. Before the pandemic, notice periods were usually two months in England.
Joseph Rowntree Foundation economist Rachelle Earwaker said many renters in low income work such as catering or taxi driving had lost their livelihoods in the pandemic and ending the eviction ban risks "a two-tier recovery".
"We're really worried that there will be a wave of homelessness coming through," said Ms Earwaker.
The charity commissioned YouGov to question more than 10,000 adults, a quarter of them renters, in England, Wales and Scotland, early in May.
The findings suggest that, compared with homeowners, renters are more than three times as likely to be behind with rent or bills (6% vs 19%).
They were also twice as likely to worry about:
meeting their housing costs (10% vs 20%)
and losing their homes within three months (5% vs 11%)
Black and minority ethnic households, those on lower incomes and those with children had the highest levels of concern, the research suggests.
Rudolf Bozart has had a year to forget - the media company he worked for went bust, he found a job as a carer but was made redundant. So now he delivers takeaways.
The bills have mounted - energy, council tax and rent - and the 26-year-old owes the landlord £3,400 in arrears.
"It is stressful and it's affecting my health and it gives a lot of sleepless nights," he says.
"I just don't know when I'm going to wake up to the dreadful message, saying that this is your notice because of the rent arrears.
"So far the ban on eviction was my safety net for me not ending up on the streets."
Candy Richards has been trying evict a tenant she says stopped paying his rent in October 2019, well before the pandemic.
Despite being in work he now owes her more than £10,000 and the eviction ban means she's "been powerless to do anything to get my property back."
"It didn't do anything to support tenants who were in genuine arrears, but what it did do was safeguard tenants who had just decided to stop paying rent or who were committing anti-social behaviour, because there was no distinction between those tenants who couldn't pay and those tenants who wouldn't pay."
She is struggling to pay mortgages on the rental property and on the home she shares with her son.
"This situation has really put me off wanting to rent the property out again in the future."
Alicia Kennedy, director of Generation Rent, an organisation representing private renters, described the government's decision to end the ban as "reckless".
"If the government doesn't intervene, thousands of homeless families could be turning to their council for help," she said.
"We can't build back better without financial support for the renters who have been hit hardest."
The Ministry of Housing, Communities and Local Government said that 45% of private landlords own just one property and are highly vulnerable to rent arrears.
It said there was financial support to help people pay their living expenses, including the furlough scheme and the £20-a-week Universal Credit uplift, which have both been extended until the end of September.
Housing Minister Christopher Pincher said: "As Covid restrictions are eased in line with the roadmap out of lockdown, we will ensure tenants continue to be supported with longer notice periods, while also balancing the need for landlords to access justice."
Ben Beadle, chief executive of the National Residential Landlords Association, said expecting landlords and tenants to "muddle through" was a failed strategy.
"The government needs to develop a financial package which ensures that benefits cover the rents of those in receipt of them," he said.