What students really want from school catch-up
By Sean Coughlan
BBC News family and education correspondent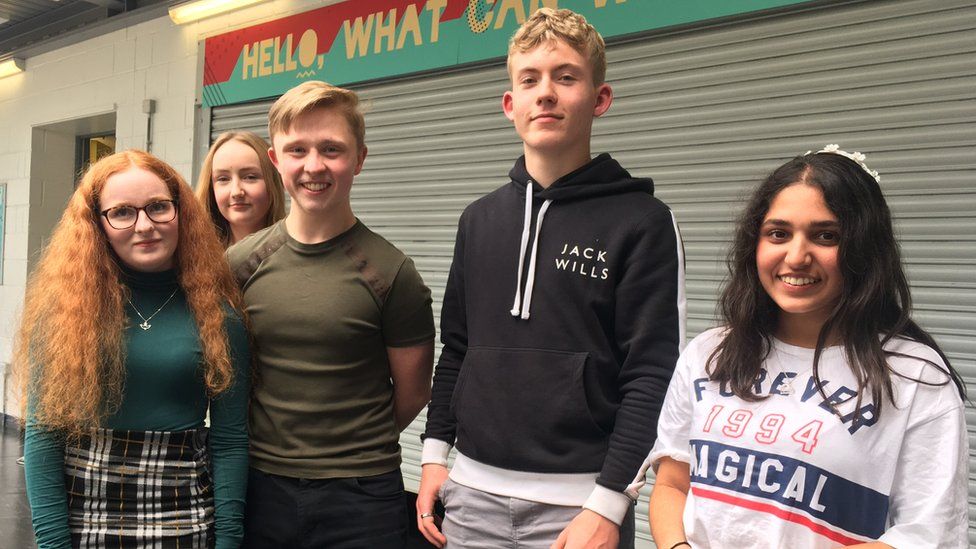 If schools in England are going to be given catch-up funding, what do students think would help them recover from the pandemic?
It's a thumbs down for proposals such as a longer school day or a shorter summer holiday, in the firm opinion of a group of sixth formers in Crawley, West Sussex.
And having spent too much time on laptop learning during the lockdown, they're lukewarm-to-tepid about the prospect of more online tutoring.
These articulate 16 to 18-year-old students at St Wilfrid's Catholic school want something perhaps unexpected - and it doesn't come with a price tag.
"Certainty. It would be so beneficial for students," says Katelan. They want to know what's happening next.
"It feels like the pandemic has been constant pressure and uncertainty," says the Year 12 student.
They want a break from the long months of worrying, the confusion, the chopping and changing. They seem to want some calming continuity, not the thunderflashes of big ideas and extra initiatives.
Apart from the wider stresses of the pandemic on their families, in school they've faced a constant drip-feed of uncertainty about exams, they've been in and out of school, masks on, masks off, they've been cut off from friends and seen big milestones like proms cancelled.
Rather than cramming in more catch-up hours, these students want to plan with more confidence. For instance, how will next year's A-levels be run when so much time has already been lost?
"The most important thing the government could give us as students is clarity. And clarity early on and not just a few months before we're due to take the exams," says Catherine, expecting to take her A-levels next summer.
She wants to know that exams will be fair to their disrupted year group, with different amounts of missed time, and that there won't be any last-minute changes.
They were really glad to return to school in March after the winter lockdown - and you get the impression that they really crave some normality.
"Every student wanted to be back in the classroom. When it's in-person it's just so more enjoyable," says Katelan.
It's their own teachers they want to see in front of them, not sessions with online tutors.
"If you're learning off a PowerPoint, it's just very 2-D and not interesting," says Katelan.
"It's also the social side," says Pavni. "The teachers say something and you've cracked a joke about it and you remember it."
"I don't think online catch-up will be very good," says Louie. Although the extra tutoring being proposed could also be face-to-face.
The idea of longer school days has been widely trailed as a way of helping pupils who have fallen behind, with suggestions it could be part of a multi-billion, multi-year deal, along with tutoring and more training and development for teachers.
But Thomas, in Year 13, says the priority should be quality rather than quantity and stretching the day would be counter-productive if it leaves pupils "fatigued and lethargic".
While the catch-up plans will focus on lost learning, for young people there were more than exams cancelled last year. There was the abrupt end of school, the unsaid goodbyes, the loss of proms and parties, the post-exam festivals and holidays.
"Everything was either cancelled or rushed," says Katelan.
And there's trepidation about what lies ahead.
Thomas has made his top choice for a university place in the autumn - but says the lack of any visit there has left him uncertain.
"It's daunting that I had to apply to university without every having a feel of the town or the environment. The best I got was an hour taster course on Zoom with 400 other people," he says.
Crawley in leafy Sussex might not fit any stereotypes of deprivation, but the local economy has taken a hammering in the pandemic from the disruption to nearby Gatwick airport, the biggest local employer.
According to the think tank Centre for Cities, Crawley has faced one of the worst "economic shocks" in England, going from relative prosperity to having the highest share of people on furlough and one of the biggest increases in unemployment.
"There were a lot of low-paid jobs lost, people who were just about managing," says St Wilfrid's head teacher, Michael Ferry, whose school had to open a food bank for struggling families.
Free school meal numbers rose sharply, he says, and the school provided computer equipment, internet access and food vouchers in addition to what was supplied by the government.
The head teacher says the role of the school has become much wider - it's not just about teaching but "putting food on the table for families".
The debate about catch-up needs to recognise how uneven the impact of the pandemic has been, says Mr Ferry. There is no one-size-fits-all for how much pupils have fallen behind.
"It's widened the gap between the educational haves and have-nots," he says.
High-achieving, well-supported students, with all the right computer equipment at home, will be making better progress than ever, says the head teacher.
'Six months if you're lucky'
While in another class there could be a low-achieving student with multiple disadvantages at home who will fallen even further behind.
Mr Ferry argues that a recovery plan needs to address the root causes of this divide, which he says are "child poverty, lack of opportunity, lack of parental skills".
"It's not just about money for education. It needs to be a co-ordinated plan that brings in health, mental health, police, social care and education."
Mr Ferry has his own very practical checklist of what is needed from any recovery funding.
"I want a fully staffed maths department," he says, wanting catch-up funding to be invested in getting the right staff for schools.
"I want students to come into school having had a breakfast," he says, addressing child poverty.
And when it comes to mental health, he wants support to be available much more quickly.
"There's a significant minority who haven't coped very well," he says, but getting to see mental health services can be a wait of "six months if you're lucky".
"They're overwhelmed, so is social care," he says.
Mr Ferry remains unconvinced by the impact of tutoring - and doesn't want any of the catch-up plans to be "chuck money at it and hope it works".
He questions whether a longer school day would disrupt what's already on offer.
"We have a large number of pupils who stay back every night anyway," he says, with sports, drama and arts clubs and extra catch-up lessons. Exam revision classes already take place over holidays and half terms.
That's not to mention the extra pressure on school staff, the risk of burn-out and the financial cost of longer hours, he says.
After two academic years of major disruption, it's not difficult to see the pressure to fill the gaps in learning. The current generation in school shouldn't be disadvantaged by the pandemic. They shouldn't miss out on a fair chance to get qualifications.
But since the first lockdown in March 2020, Mr Ferry says he has not had a break, working almost every day, including weekends and holidays.
He's not expecting any sympathy, and the pressure of the pandemic has affected many sectors, but this has been a marathon effort for many people and families. Recovery, for students and staff, will have to be measured in many different ways.