Covid: Poor pupils fall further behind in maths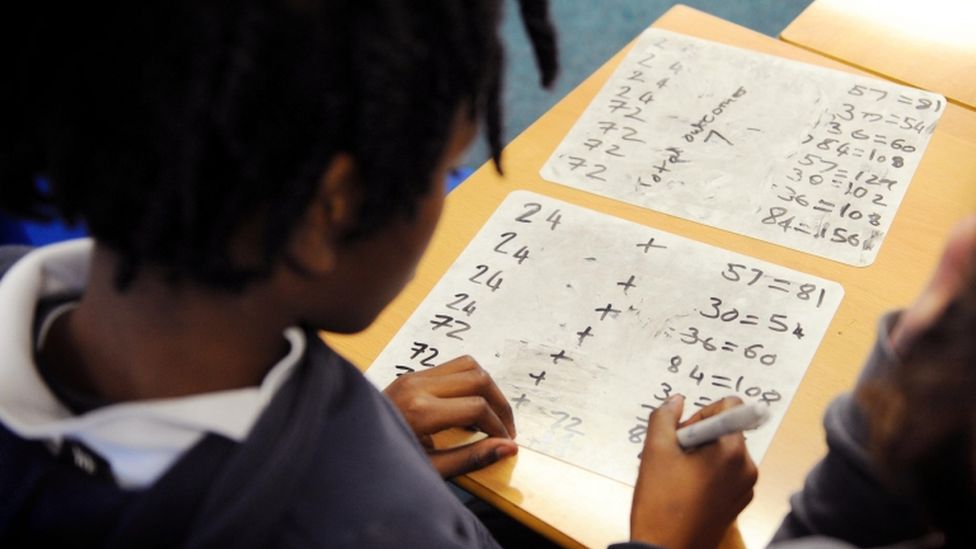 Poor pupils have fallen further behind in maths as a result of the coronavirus pandemic, according to research.
The Education Endowment Foundation (EEF) study suggests primary-school pupils eligible for free school meals have fallen another month behind their classmates since the first lockdown.
And the gap is unlikely to narrow without intervention, despite all pupils returning to class in September.
The government has already made £1.7bn catch-up funding available in England.
But Sir Peter Lampl, who chairs the EEF, is calling for significant extra funding to mitigate against the long-term impact of school closures as failing to act now will be a "catastrophe" for disadvantaged children.
Pupils from 132 primary schools in England were tested in autumn 2019, September 2020 and then towards the end of the autumn term.
Contrary to previous estimates, the interim findings of this study indicated no discernible change to the disadvantage gap in reading.
Previous studies have suggested children in England are up to three months behind in their studies after lockdown, with boys and poor pupils worst hit.
Research by the National Foundation for Educational indicated the learning gap between rich and poor pupils had grown by almost 50% between March and July 2020.
The EEF report found considerable variation in how schools and teachers responded to the huge disruptions caused by Covid-19.
For example, 23% of teachers surveyed reported phoning pupils at least once a week, while 37% never called them.
And 24% of schools in the study provided video lessons, while the remaining 76% did not.
But the research found no clear evidence of a link between different teaching methods and changes to the achievements of pupils.
EEF chief executive Prof Becky Francis said: "The pandemic has brought the significance of social and educational inequality into sharp focus.
"Research studies like this one are providing clear evidence that substantial existing gaps have grown further due to the disruption to learning caused by the pandemic."
A department for education spokesperson said: "We have invested £1.7 billion in ambitious catch-up activity, including high-quality tutoring and summer school provision. The majority of the funding is targeted towards those most in need, while giving schools the flexibility to use it as they believe best, to support their pupils.
"We are working with parents, teachers and schools to develop a long-term plan to make sure all pupils have the chance to recover from the impact of the pandemic as quickly and comprehensively as possible."