Secondary school pupils to keep wearing masks after Easter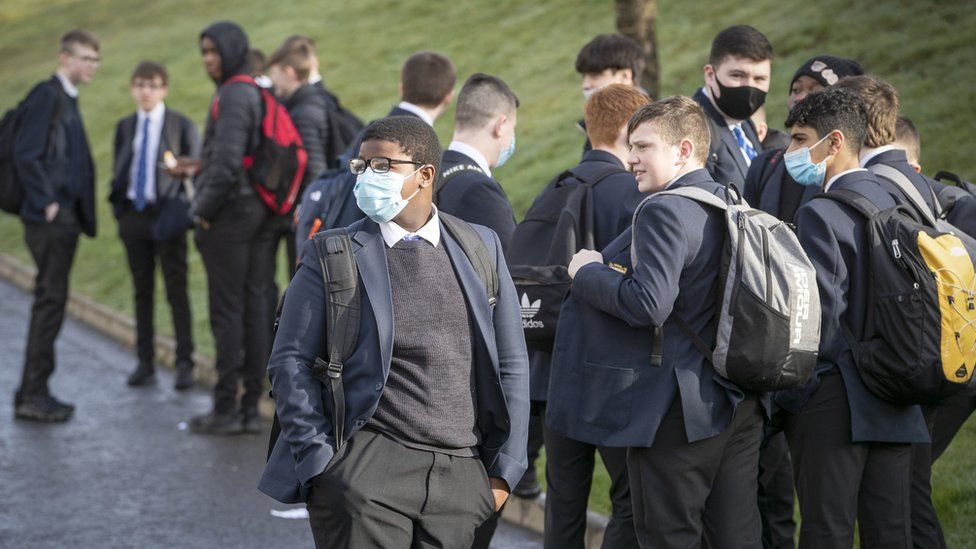 Secondary school pupils in England must keep wearing face masks in class after the Easter holidays, said Education Secretary Gavin Williamson.
Face masks would remain as a "precautionary measure," he said.
Mr Williamson had promised to review the wearing of masks, which have been required since schools reopened fully last month.
But head teachers say masks can disrupt learning and should not be used any longer than is "absolutely necessary".
Announcing the decision to retain masks in the classroom, at least until 17 May, the Department for Education (DfE) said: "This cautious approach will help limit the risk of transmission and enable continued monitoring of the effect of school and college returns."
But the latest DfE guidance says: "It is expected that face coverings will no longer be required to be worn in classrooms, or by students in other communal areas, at step three of the roadmap, which will be no earlier than 17 May."
"Schools and students have done a great job adapting to Covid secure guidance and working hard to make sure it doesn't impact learning," said Mr Williamson.
"We obviously all want to get back to facemask-free classrooms and we will do this in line with the latest scientific data while balancing the interests of students, teachers and the wider community."
However, Geoff Barton, head of the school leaders' union ASCL, said that while his union would support the department's new guidance, masks in class were "not ideal".
"The use of face coverings is clearly not ideal in a classroom setting, as it has the capacity to disrupt education and it is not something we want to see going on any longer than is absolutely necessary.
"We hope that the continued excellent progress with vaccinations will mean it is no longer necessary for students to wear face coverings in lessons when the government announces the next stage in the easing of restrictions in May."
But Patrick Roach, general secretary of the NASUWT teachers' union, welcomed the move.
"Relaxing the rules in schools would send a message to pupils and parents that the threat of Covid has passed at a time when extreme caution is still needed.
"We are not out of the woods yet and maintaining the highest levels of Covid security in our schools is critical as we move into the new term in order to protect the safety and health of teachers and learners."