'Right and just' for students to get Covid refunds
By Sean Coughlan
BBC News family and education correspondent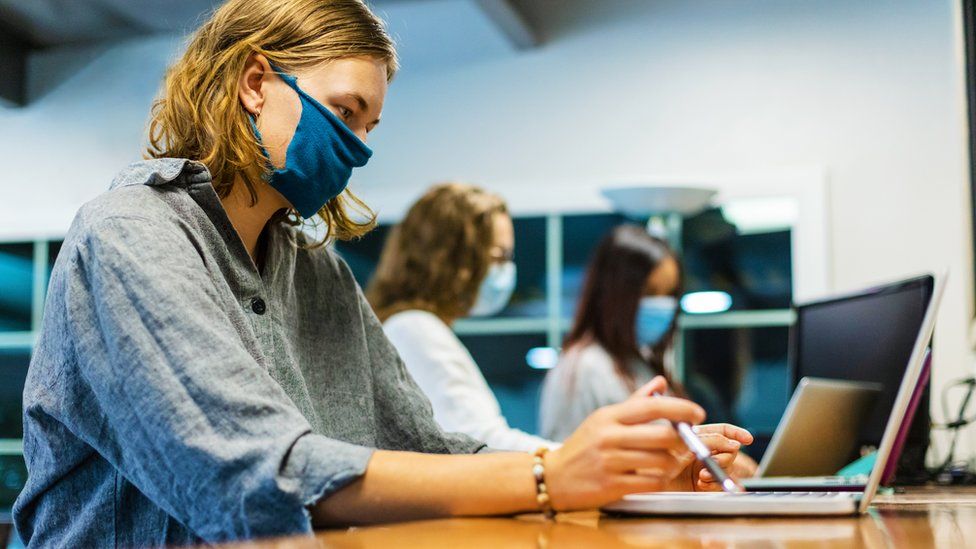 University students in England should be given financial compensation for the disruption to their studies from the pandemic, says Sir Anthony Seldon.
The former University of Buckingham vice-chancellor said it would be "right and just" for students to have refunds.
Larissa Kennedy, National Union of Students president, backed his call, saying: "Students deserve better than to be pushed into financial hardship."
The Department for Education said refunds were a matter for universities.
Students have complained about paying rent on accommodation they cannot use and paying full tuition fees while studying online and not having access to campus facilities.
'Students deserve something'
Sir Anthony, who has been a university and school head as well as a political biographer, said despite the best efforts of universities, it had been a "restricted" experience for many students.
"Students deserve something," he said, including "financial recompense", in recognition of how much they had missed during the pandemic.
Many are still studying online at home and do not have a date for going back to face-to-face teaching. Those in their third year will have had two successive years of disruption.
But rebates for students should be funded by the government, because many universities "cannot afford to pay", said Sir Anthony.
This week the university complaints watchdog, the Office of the Independent Adjudicator, revealed that a university had to pay a student £5,000 in compensation for lost teaching time during lockdown.
Sir Anthony, also writing in the Times, says universities should be more assertive in "challenging the government to come up with money to compensate students".
He argues that universities should have a higher status after their role in tackling the pandemic, including developing Covid vaccines.
But instead, Sir Anthony says universities are being publicly blamed by ministers for "one misdemeanour after another" and "put on the naughty step".
He wants universities to take a tougher collective line with politicians and to start "punching their weight".
On rebates on tuition fees, Universities UK said: "The government is clear that there should not be blanket tuition refunds."
A spokesman said additional measures were in place for students, such as online learning, "enhanced wellbeing and mental health support and significant hardship funding".
Many student rooms are privately rented, but Universities UK said universities were "actively working with government and looking at ways to ensure a fair deal for students".
NUS president, Ms Kennedy, warned the "economic strain" of the pandemic meant many students faced "difficult decisions as to whether they will be able to continue their education".
The Department for Education (DfE) said universities were autonomous and claims for a fee refund would depend on the contract between the individual student and university.
A DfE spokeswoman said: "We have been clear that universities should maintain the quality and quantity of tuition, and ensure it is accessible to all students, regardless of their background, and the Office for Students is monitoring online teaching to ensure this is the case."