Rough sleeper numbers 'down a third in a year'
By Michael Buchanan and Judith Burns
BBC News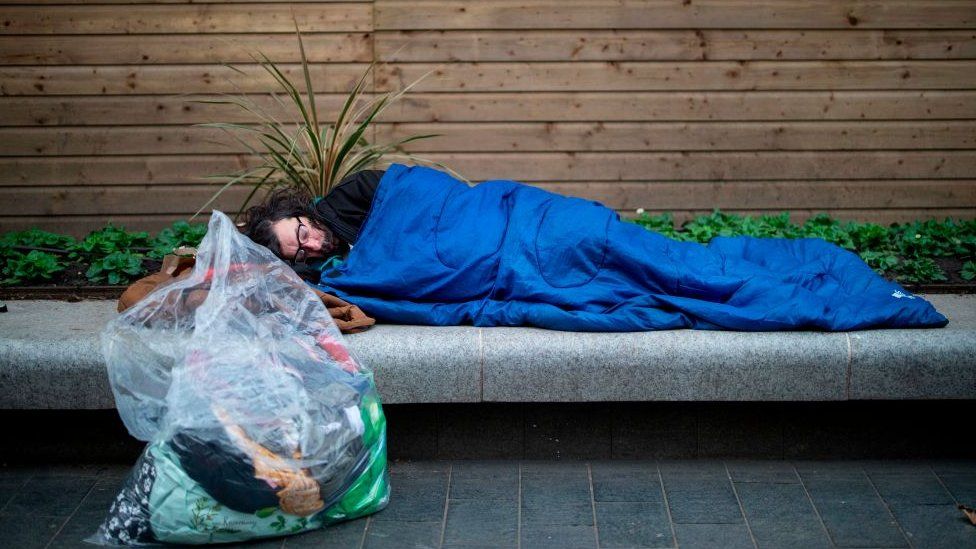 The number of rough sleepers in England fell by a third over a year, official figures suggest.
Government statistics show 2,688 people on the streets on one night in autumn 2020, down from 4,266 in 2019.
The fall follows the "Everyone In" scheme, which has housed about 37,000 people since the pandemic hit last March.
In the House of Commons, Housing Secretary Robert Jenrick said he was "heartened" by "this fantastic result".
Mr Jenrick congratulated council officers and outreach workers on their "incredible achievements", but said these were only a beginning: "Our ambition is that no one should need to sleep rough."
However, Labour's shadow housing secretary, Thangam Debbonaire, told MPs there was "a real risk that the gains made last year will be lost".
The number of people housed by councils under Everyone In far outstripped the numbers in the 2019 official estimate.
The 2020 figures, from the Ministry of Housing, Communities and Local Government, show:
2,688 people estimated to be sleeping rough on a single night in autumn 2020
This was down by 1,578 (37%) from last year, and down 43% from the 2017 peak - but up by 52% since 2010
Nearly half (44%) were in London and the South East
The official estimate is based on a snapshot where councils in England either count rough sleepers on one night each year between 1 October and 30 November - or give an estimate based on information from "local agencies", often charities.
But research carried out by the BBC a year ago, also using figures from local authorities, suggested 25,000 people slept rough in England at some point in 2018, five times the figure in the autumn snapshot for the same year.
There's no doubt the government's approach to rough sleeping during the pandemic has proved what can be done.
But while there's widespread acknowledgement that the efforts were successful in the short term, questions remain about the government's strategy.
Charities report that while the snapshot figures show a decrease in the last few years, people are still sleeping rough in significant numbers.
And there's concern that without a sea change in support, rising unemployment and the financial pressures of the pandemic could lead to the problem getting much worse.
If Boris Johnson is to keep his promise to end rough sleeping by the end of this parliament, the figures will have to fall much further and faster than they have so far.
'New people sleeping rough'
In the London Borough of Southwark, Helen Dennis, cabinet member for social support and homelessness, says the Everyone In scheme was "really effective in getting people off the streets, particularly during the first lockdown".
But she added: "The challenge is we are seeing new people sleeping rough all the time."
Ms Dennis says the number of homelessness applications in the borough is currently 48% higher than at this time last year, and this is translating into a rise in the numbers of rough sleepers.
"We've seen people losing their jobs in catering, cleaning, so lots of people who maybe were on low-paid jobs to start with have lost that lifeline and find themselves homeless for the first time."
Arran Nahal, 25, originally from Stratford-upon-Avon, had just returned to the UK after a two-year stint working in hospitality in Australia and was due to start a live-in job at a hotel in the Cotswolds as the UK first locked down last March.
The Cotswolds job was cancelled, leaving him jobless and without accommodation, his savings ran low and he "hit rock bottom" when he had to spend the night in a central London bus stop.
"Not being quite familiar with homelessness in the past and rough sleeping... I was a bit lost, a bit scared.
"You have some deep dark thoughts during those hours."
He says he asked himself repeatedly: "How has it come to this?"
The next day he "stumbled across" Southwark's Manna day centre, which found him emergency accommodation and then a hostel room in east London where he still lives.
He had never heard of Universal Credit but now relies on it. Soon he hopes to move on, although the lockdown means jobs in hospitality are impossible to find.
"If it hadn't been for the help I received almost immediately, I don't know where I'd be right now," he says.
"It's opened my eyes, given me a new perspective on the struggles people go through."
Laurence Cummins, now 20, found himself rough sleeping in London in 2019 after his father died and he could no longer stay in the family home.
"It was really cold, really dark and uncomfortable," he remembers.
"It's not a lifestyle you want really... but I didn't have a choice.
"At first I was very frightened. I just didn't really know what services were out there and that there were people who could provide accommodation for you."
By last winter, Laurence was sleeping in cold weather shelters. His earlier hopes of university and a good career were gone.
It was only when the he got an Everyone In hotel place at the start of the pandemic that he started receiving support to turn his life around.
He is now in stable accommodation, studying for a diploma in fashion and hoping to progress to a degree course.
For Laurence, the pandemic provided a lifeline and "the chance to think".
He was in the hotel for more than a month. It allowed him to sleep, watch TV and - with the help of youth charity New Horizons - plan a future.
"I just forgot about being homeless," he says.