'Reckless' if all pupils back 8 March, say teachers' unions
By Jeanette Long
BBC News education reporter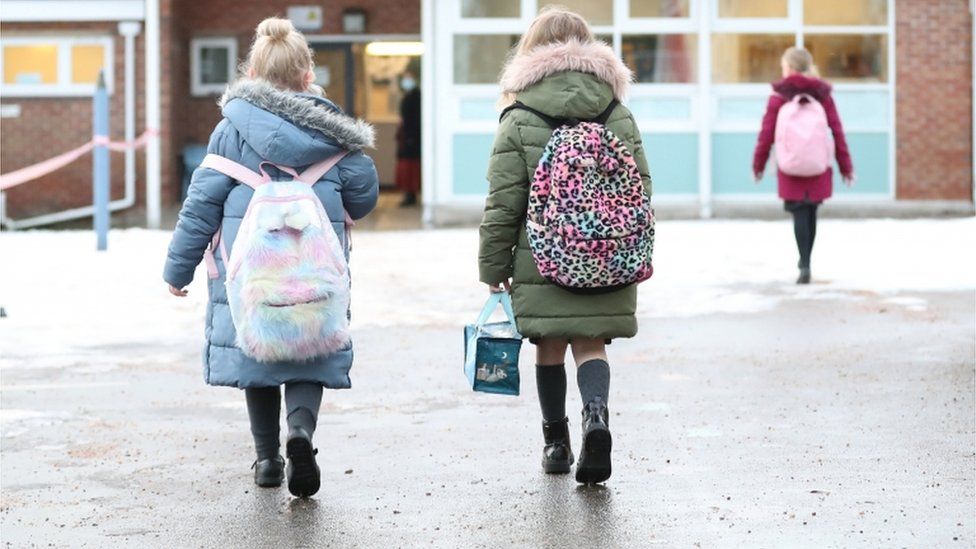 It would be "reckless" to bring back all pupils in England to school together on 8 March, says a joint statement by teachers' unions.
Rather than risk another "spike" in infections, they are calling for a more "cautious" and "phased" return.
Nine teachers' and head teachers' unions have urged the government to commit to that date only if scientific evidence is clear that it is safe.
The prime minister will announce the plan for reopening schools on Monday.
The collective statement from education unions says they are committed to bringing children back into the classroom as soon as possible - but have concerns it may lead to another surge in the virus.
They say they are "increasingly concerned that the government is minded to order a full return of all pupils on Monday 8 March".
The teachers' unions argue that uncertainty about the role that schools play in the transmission of the virus should mean a more cautious approach.
A full return would mean 10 million pupils and staff travelling to and from school each day, says a statement from signatories including the biggest classroom union the National Education Union.
They call for an "opening phased over a period of time", similar to the "approach being taken in Scotland, Wales and Northern Ireland".
"It allows public health experts to assess the impact of the first phase before moving to the next," say the teachers' unions.
The decisions on England's return to school will be announced on Monday, when the prime minister will set out his "road map" for reopening after lockdown.
This is expected to be accompanied by a series of announcements on schools in the following days - with funding for catch-up classes, details of how testing will work and how cancelled GCSEs and A-levels will be replaced this summer.
There have been suggestions that after initial Covid tests in school, testing will be carried out at home by parents.
There will be new guidance on face masks, which could see them being worn in secondary schools where social distancing is not possible.
The nine unions signing up to the joint statement are the Association of School and College Leaders (ASCL), GMB, National Association of Head Teachers (NAHT), NASUWT, National Education Union (NEU), National Governance Association (NGA), Sixth Form Colleges Association (SFCA), Unison, and Unite.
On Thursday, the ASCL head teachers' union had warned that it would not be practical to carry out Covid tests on all secondary pupils if they arrived back together.
In response, England's Department for Education said: "We know schools, parents and pupils need clarity on plans as soon as possible, which is why we have committed to providing two weeks' notice for them to prepare.
"The prime minister is due to set out plans for schools reopening on 22 February, and pupils will return from 8 March at the earliest."
In Scotland and Wales, younger primary school year groups will begin to return from 22 February. Older primary pupils in Wales could begin to return from 15 March.
In Northern Ireland, younger primary pupils will return to classrooms on 8 March.
They will then go back to remote learning on 22 March, with the return then of secondary pupils in exam years until the Easter holidays.