Covid: Testing means 'staggered' school return, say heads
By Sean Coughlan
Family and education correspondent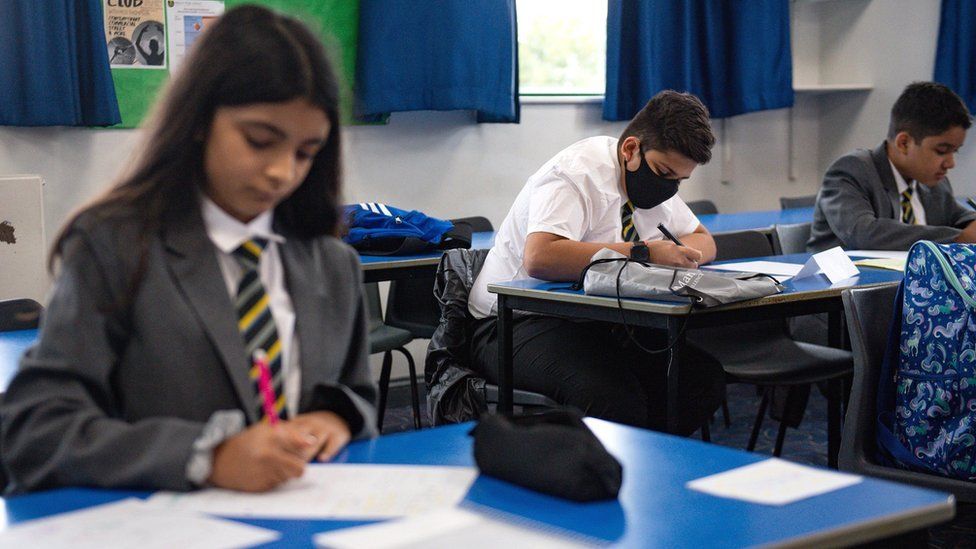 The return of secondary school pupils in England may need to be "staggered" to allow students to be tested for Covid, head teachers' leaders say.
It will not be possible to carry out tests on every pupil if they arrive to start together on 8 March, says Geoff Barton, of the ASCL heads' union.
"It would make more sense for them to be brought back into school in phases and tested as they return," he says.
Prime Minister Boris Johnson is to set out plans for the return on Monday.
The heads' leader says "no final decision" has yet been made about the reopening of schools, while England's Department for Education has said schools will open on 8 March "at the earliest".
Ahead of Monday's announcement, Mr Barton says the practicalities of preventing pupils from mixing before they have all been tested meant accepting secondary schools would need to stagger the return.
"If they come back into the classroom all at the same time they would have to be taken out of class for the tests to take place, by which time they will have already mixed," he said.
When pupils returned in the autumn term, some schools brought back year groups on different days.
Plans for going back are still under discussion and there have been suggestions that, after an initial round of Covid testing in schools, further tests would be carried out each week at home by parents.
Mr Barton says head teachers have "urged the government to allow these Covid tests to be done at home using home-testing kits" to lessen the pressure on schools.
There are also suggestions that in secondary schools, where social distancing is not possible, pupils might have to wear face masks.
The head teachers' leader says new guidance on safety measures in schools is expected next week, which will include face coverings.
The decisions on England's return to school will be announced on Monday, when the prime minister will set out his "road map" for reopening after lockdown.
This is expected to be accompanied by a series of announcements on schools in the following days - with funding for catch-up classes, details of how testing will work and how cancelled GCSEs and A-levels will be replaced this summer.
There could also be a campaign to build parental confidence in the safety of the return to school, with many pupils having been at home and studying online since the start of the Christmas holidays.
England's schools have been closed to all but vulnerable children and those of key workers since the Christmas break.
Figures showed that last week, before half term, almost a quarter of primary school pupils were in class. A lower proportion, about one in 20 pupils, were going into secondary schools.
A spokesman for England's Department for Education said: "We know schools, parents and pupils need clarity on plans as soon as possible, which is why we have committed to providing two weeks' notice for them to prepare.
"The prime minister is due to set out plans for schools reopening on 22 February, and pupils will return from 8 March at the earliest."
In Scotland and Wales, younger primary school year groups will begin to return from 22 February. Schools in Northern Ireland will not return until at least 8 March.