University watchdog faces 'impartiality' questions
By Sean Coughlan
BBC News education correspondent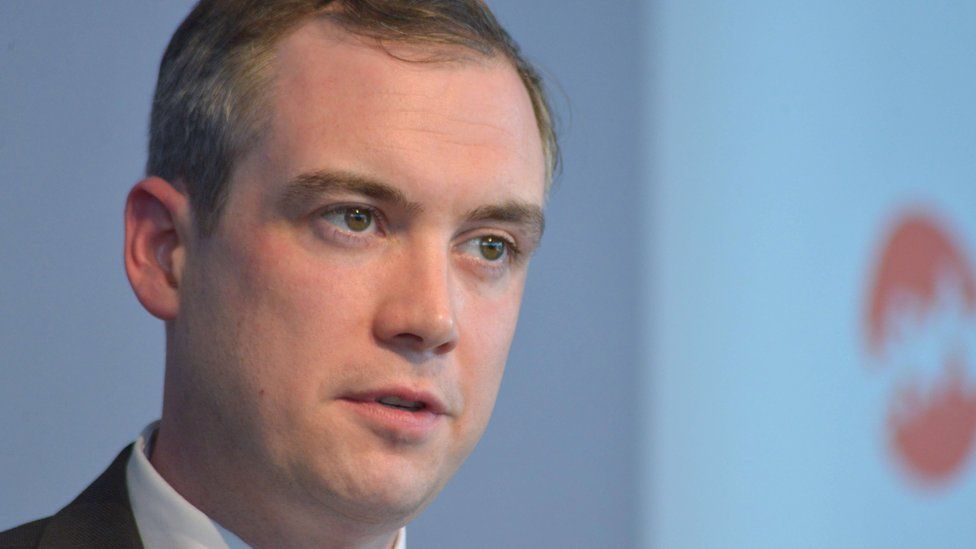 England's new university regulator is facing questions about a potential conflict of interest.
Lord Wharton has been appointed chair of the Office for Students (OfS) but is also a paid adviser to a firm Aquind, which wants to build a cable linking the UK and French electricity grids.
The £1.2bn project would be built through the University of Portsmouth, which is strongly opposed to the route.
The OfS says protections are in place to prevent conflicts of interest.
"Where there is a conflict related to an individual higher education provider we would expect the relevant board member to exclude themselves from any decisions directly related to that provider," said a spokesman for the OfS university watchdog.
But the OfS declined to say whether that would specifically apply to the University of Portsmouth and its incoming chair, Conservative peer, Lord Wharton.
The University of Portsmouth says any "perceived conflict of interest" needs to be "transparently managed".
The electricity cable "interconnector" plan has prompted much local protest in Portsmouth - with both Labour and Conservative MPs in the city opposing its digging through such a densely-populated area.
The city council's planning officials said the prospect of it being pushed through with the compulsory acquisition of land was "draconian" and an "interference with human rights".
The University of Portsmouth, whose land it would run through, is concerned about disruption to sporting facilities and says it would have a "huge negative impact" and leave it facing financial losses.
Aquind firmly rejects the university's claims, saying the impact would be "minimal", work would be carried out in a way that reduced disruption and the route of the "underground cable corridor has been amended and refined" in response to earlier feedback.
But the university will now face Lord Wharton both as someone working for Aquind, on the opposing side in this commercial dispute, and also the chair of the regulator, which has powers to impose fines and sanctions on universities such as itself.
While there is no suggestion of impropriety in either role, as paid private adviser or incoming publicly-funded watchdog, there are questions being asked about an overlap.
Portsmouth South MP, Stephen Morgan, questioned whether Lord Wharton could appear to be impartial.
"We know Aquind has links to Tory donors. But to be advising a firm responsible for this project while it is being challenged by a university Wharton is set to regulate, raises serious red flags about his impartiality, particularly if he keeps the Conservative whip.
"These revelations cast fresh doubt over Lord Wharton's suitability for this key role," said Mr Morgan, Labour's shadow minister for the armed forces.
"The potential conflicts of interest keep on mounting for Lord Wharton of Yarm," said Jo Grady, leader of the UCU lecturers' union.
The Department for Education says there is an "extensive code of guidance" to guard against a conflict of interest and that as chair, "Lord Wharton would not be involved in individual regulatory decisions about universities".
It has also rejected accusations made by Labour about "cronyism", where his appointment had been linked to his political connections, saying the process was "in line with the governance code on public appointments".
An Aquind spokesman says its adviser Lord Wharton had no part in "determining the location of the underground cables or in the ongoing engagement with Portsmouth University".
His work for Aquind has been recorded in the House of Lords register of interests.
The backers of the electricity scheme have also attracted attention. A director of Aquind is Alexander Temerko, a Ukrainian-born businessman who has become a prominent financial donor to Conservative MPs.
The photos on Mr Temerko's website also show the businessman with Education Secretary Gavin Williamson, who appointed Lord Wharton to chair the Office for Students earlier this month.
Lord Wharton's links with Mr Temerko go back before his role as Aquind's adviser. Records from the Electoral Commission show Mr Temerko made four donations to him, amounting to £25,000, between 2013 and 2016, when he was a Conservative MP.
The Office of the Advisory Committee on Business Appointments, said Lord Wharton's work for Aquind's "subsea electricity connector" would be "part-time, paid, strategic adviser to the company - acting as a sounding board for the company's ideas and future plans/ strategy of the business".
This was in August 2017 when he had stopped being an MP and minister and was seeking their advice over taking up his new job with Aquind.
The business secretary will make the decision later this year on whether the Aquind interconnector gets the go-ahead.
The previous secretary of state, Alok Sharma, whose local constituency party had received a donation from Aquind of £10,000, had to recuse himself from any part in the decision-making process.
Conservative MP David Morris, another recipient of a donation, had to apologise to the House of Commons for a breach of paid advocacy rules after asking a question in support of the Aquind cable project.
Aquind says that all of its political donations have "complied with the relevant legislations".
The university says it is not against the principle of the project, but its objections are about what it will mean in practice.
"The objections relate to the impact on the operation of the site and future development potential. The current plans will cause disruption to the provision of facilities to students and the local community, which together will impact the university's business," said a university spokesman.
"We are continuing our dialogue with Aquind to try to reach a resolution and find a route which does not have the huge negative impact on the university as is currently proposed.
"Lord Wharton's appointment does not change the basis of our objection and we have full confidence in him acting in his new position. We hope that any perceived conflict of interest on this matter will be able to be appropriately and transparently managed by all those involved."
But Aquind says it has already made changes to "minimise any impact on open spaces" and to respect environmental concerns.
The energy firm says that the interconnector link would provide cheaper and greener electricity for consumers in the UK.
The Office for Students said its new chair Lord Wharton did not want to comment.