Covid: Early years staff safety 'cause for concern'
By Oliver Barnes
BBC News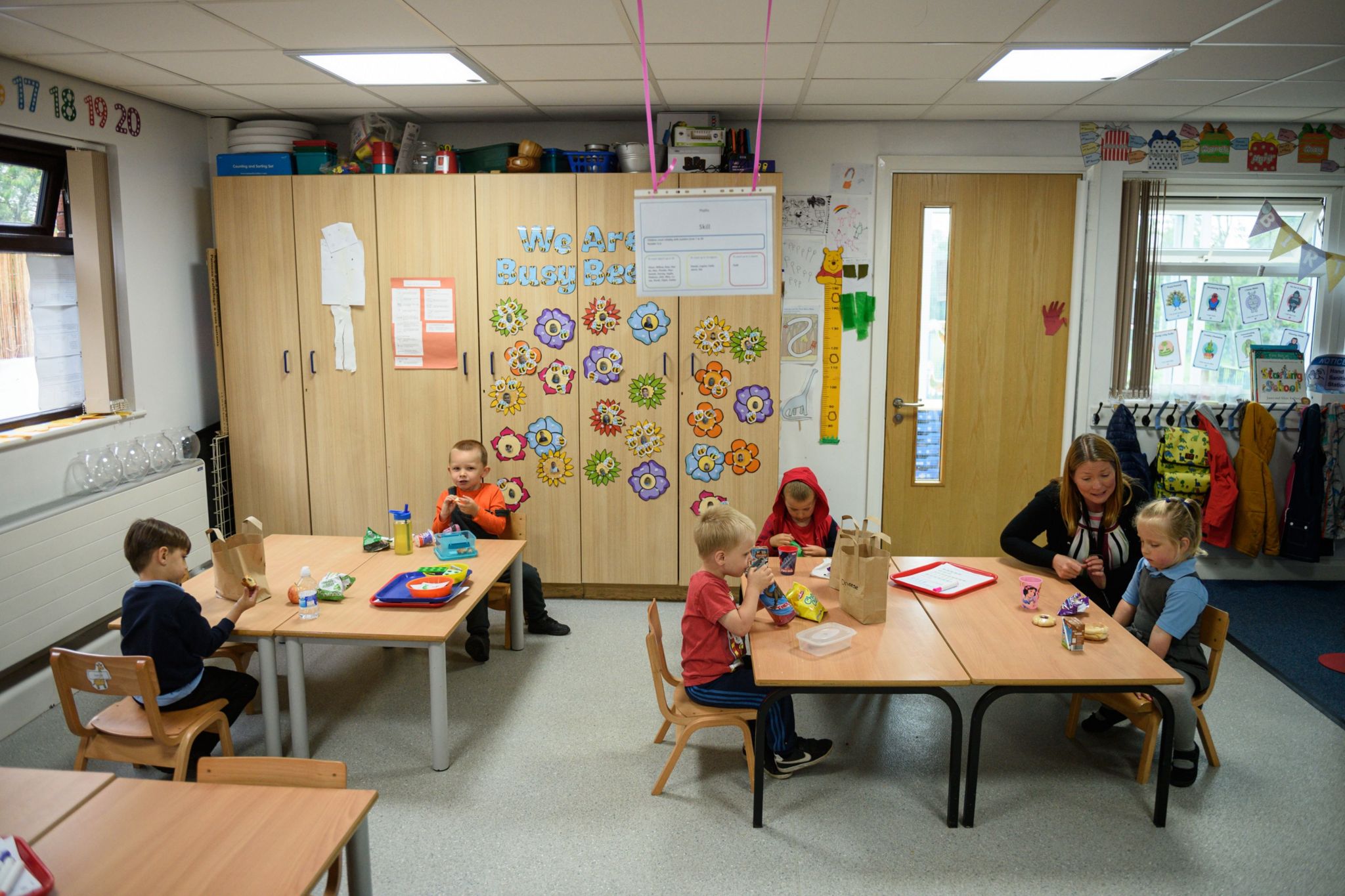 Many staff at nurseries, pre-schools and childminders "don't feel safe at work", says the Early Years Alliance.
The group, representing early years providers, wants staff in this sector to be a higher priority for Covid testing and vaccinations.
Nurseries and settings for young children in England have been told to remain open during lockdown.
The government said the under-fives were "unlikely to be playing a driving role in transmission".
The Early Years Alliance received more than 3,500 responses in a survey of staff in nurseries or childcare settings and said these suggested widespread concerns - with half of those who replied saying they did not feel safe at work.
Neil Leitch, chief executive of the group, said the safety worries were "a cause for serious concern".
He called on the government to implement rapid coronavirus testing among early years staff "as a matter of urgency", adding they should be "given priority access to vaccinations in phase two of the rollout".
There are currently no confirmed plans for lateral-flow testing in nurseries and pre-schools.
And Education Secretary Gavin Williamson told the BBC's Breakfast programme he would "very much like to see it" once the most vulnerable groups had received their jabs.
A Department for Education (DfE) spokesman said: "Keeping nurseries and childminders open will support parents and deliver the crucial care and education for our youngest children.
"Current evidence suggests that pre-school children are less susceptible to infection and are unlikely to be playing a driving role in transmission."
The Early Years Alliance survey also found concerns that staff shortages would make it difficult for some nurseries and pre-school settings to stay open.
Dr Amelia Massoura, who runs Stepping Stone pre-school, in Sittingbourne, Kent, said: "Out of six members of staff, four have contracted Covid-19.
"Fortunately, all have recovered well."
Vanessa Linehan, manager of Sandbrook Community Playgroup in Hackney in London, said: "We are happy to stay open to support our families.
"But we want our staff to have testing and vaccinations as a priority.
"We encourage local authorities to prioritise appropriate testing for early-years staff through their community testing programmes," said the Department for Education spokesman.
However, Labour's shadow education minister Tulip Siddiq accused the government of "incompetence and neglect", saying early-years staff "deserve... proper access to testing".
She questioned why "the government has refused to publish the scientific basis for keeping early-years settings open in lockdown" and called on it to "urgently pull back from the brink of funding changes that could lead to viable early-years providers going bust".
The government changed the funding formula for the early years sector in December, basing it on current attendance rather than pre-pandemic levels.
According to the DfE, early years attendance is at 54% of the usual daily level, as of 14 January, leading to a shortfall in revenues.
Roughly half of nurseries and pre-schools and a third of childminders expect to be operating at a loss by the end of the spring term, based on current levels of government support, according to the survey.
"Early years providers are the only part of the education sector that the government has asked to remain open to all families," said Mr Leitch
"It is surely not too much to ask for the protection - both practical and financial - needed to ensure that we can continue to do so."