Schools may reopen region by region, says medical adviser
By Hannah Richardson
Education and social affairs reporter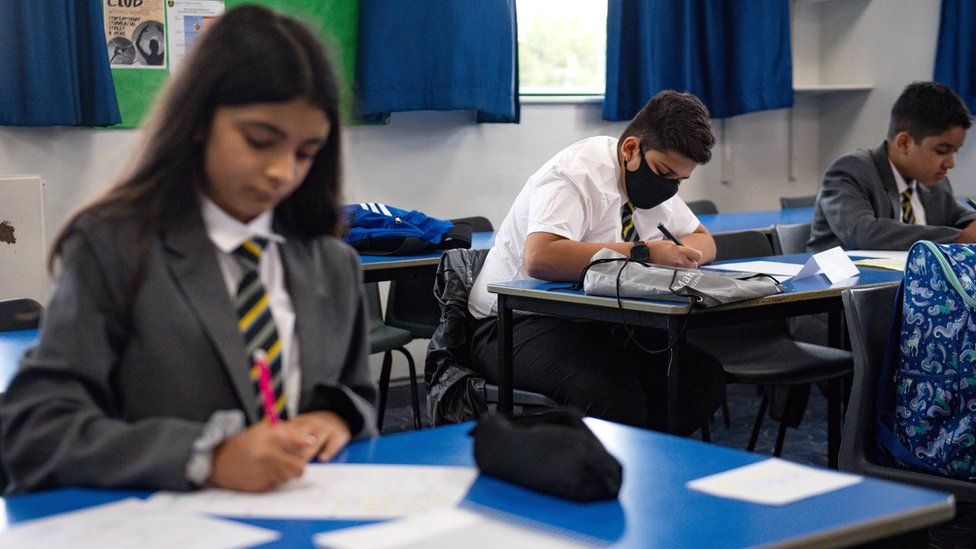 Schools in England may reopen region by region after half term, the government's deputy chief medical officer Jenny Harries has said.
Speaking to the Commons education committee, Dr Harries suggested there would be different rates of infection across the country when lockdown ends.
This would mean a "differential application" of restrictive measures would be required, she said.
Schools were closed at the start of January to stem the spread of Covid-19.
Although schools remain open to vulnerable children and those of keyworkers, all others are due to learn remotely from home until after the February half term holiday.
But the Health Secretary, Matt Hancock, has suggested they may not return fully then.
A Department for Education spokesperson said the department was continuing to keep plans for the return to school under review and that it would inform schools, parents and pupils of the plans ahead of February half term.
Committee chairman Robert Halfon said he suspected schools would be closed for quite "a few weeks yet", but there has been no formal confirmation of this.
Medical and science advisers were warning the government before Christmas that the NHS would not be able to manage the number of Covid-19 cases if schools remained open.
The new, more transmissible variant of the virus had been increasing exponentially in London and the south-east before Christmas.
But in some parts of the north and north-east saw rates of increase were reducing.
Dr Harries said: "It is highly likely that when we come out of this national lockdown we will not have consistent patterns of infection in our communities across the country.
"And therefore, as we had prior to the national lockdown, it may well be possible that we need to have some differential application."
But Dr Harries said schools would be at the top of the priority to ensure that the balance of education and wellbeing were "right at the forefront" of consideration.
Geoff Barton, general secretary of the Association of School and College Leaders, said: "Although the government intends that schools will fully reopen after the February half-term holiday, it is clearly in the balance when this happens and whether there will be any sort of regional approach.
"We expect that it will depend on coronavirus infection rates and the pressure on the NHS, and that the government will make a call on this issue nearer the time.
"What is important is that when schools fully reopen, everything possible is done to keep them open and to keep disruption to a minimum.
"This is why we are calling for education staff to be prioritised for vaccinations as soon as possible, and for schools to be given more support in the use of rapid turnaround mass testing."
Paul Whiteman, general secretary of the National Association of Head Teachers, said if the government was planning to stagger opening of schools by region, it needed to "provide clarity sooner rather than later".
"This will give vital time to prepare for a smoother reopening of schools and business," he said.
On calls for vaccination of teachers, Dr Harries suggested the safe re-opening of schools did not depend on this.
But members of the committee suggested education would be less disrupted by teachers needing to go home and isolate when infected.
The vaccination programme had been worked out in order of vulnerability to the disease, she stressed.
And Dr Harries added that although pupils could and did transmit the virus, she did not have evidence of them being "a significant driver" of "large-scale community infections".