GCSE and A-level pupils could sit mini exams to aid grading
By Katherine Sellgren
Family & Education reporter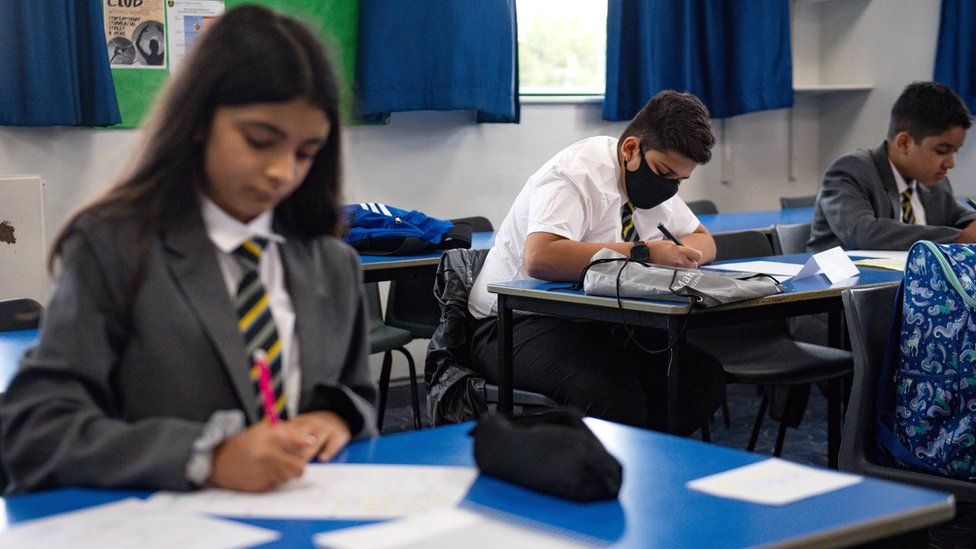 A-level, AS and GCSE students in England could be asked to sit mini external exams to help teachers with their assessments after formal exams were cancelled last week.
In a letter to the exams regulator, Ofqual, Education Secretary Gavin Williamson said this would help teachers to decide "deserved grades".
He promised not to use an algorithm which led to controversy last summer.
Head teachers said the "devil was in the detail" for these plans.
The letter was published on Wednesday morning, as Mr Williamson appeared before the education select committee to answer questions on the impact of Covid-19 on education.
In the letter to Ofqual he said: "A breadth of evidence should inform teachers' judgments, and the provision of training and guidance will support teachers to reach their assessment of a student's deserved grade.
"In addition, I would like to explore the possibility of providing externally set tasks or papers, in order that teachers can draw on this resource to support their assessments of students."
Mr Williamson's pledge not to use an algorithm to determine grades comes after thousands of A-level students had their results downgraded from school estimates last summer - before Ofqual announced a U-turn allowing them to use teachers' predictions.
"We have agreed that we will not use an algorithm to set or automatically standardise anyone's grade," the letter says.
"Schools and colleges should undertake quality assurance of their teachers' assessments and provide reassurance to the exam boards. We should provide training and guidance to support that, and there should also be external checks in place to support fairness and consistency between different institutions and to avoid schools and colleges proposing anomalous grades."
But he added: "Changes should only be made if those grades cannot be justified, rather than as a result of marginal differences of opinion.
"Any changes should be based on human decisions, not by an automatic process or algorithm."
A consultation on plans for this year is being launched later this week.
Geoff Barton, head of the Association of School and College Leaders, said the letter set out "broad and sensible parameters" for assessing GCSEs and A-levels after exams were cancelled.
"But, as ever, the devil will be in the detail of how this is turned into reality," Mr Barton said.
He welcomed confirmation that no algorithm would be applied this year "following last summer's grading debacle."
But he questioned how any system of externally set assessment would work and how it could ensures fairness for students whose education had been heavily disrupted.
"It is vital that the final plans not only provide fairness and consistency but that they are also workable for schools, colleges and teaching staff who will have to put them into practice," he added.
National Education Union joint general secretary Dr Mary Bousted said: "Had the government listened to the NEU and put in place a contingency plan sooner we would be in a better position now to make sure grades could be awarded reliably and without creating severe workload issues for education staff and students.
She said the union would continue to work with the Dfe and Ofqual, but they needed to see the full details of the plans as soon as possible to ensure grades are fair and the process is manageable for staff.
Taking questions from MPs on the education select committee, Mr Williamson said he wanted to see schools re-opening at the earliest opportunity and that he would "never apologise for being the biggest champion for keeping schools open".
He said attendance rates of vulnerable and key worker pupils in schools since the start of term were higher than in the first lockdown.
Answering a wide range of questions, Mr Williamson said:
confirmed that a national food voucher scheme would be available to all English schools from next week
said he was "absolutely disgusted" after seeing pictures of food parcels delivered to families by food service provider Chartwells and that the government would "name and shame" companies not delivering to standard
defended his decision to keep nurseries open, saying that many families rely on early years education services and said there was "no intention" to close them
said he would "make no apology" for pushing to have all those who worked in schools prioritised for vaccination and said he was fighting "tooth and nail" to ensure they were vaccinated at the earliest opportunity
said mass testing would be rolled out for both teaching and support staff in primary schools by next week, adding that primary teachers and support staff would be able to self-administer tests at home with the help of a £78m support package
confirmed that the government was looking at a system where parents could test their children at home, saying it was "not appropriate or right" to ask staff to test primary-school pupils
defended the Department for Education's decision to order Greenwich Council in London to keep its schools open in the last week of the autumn term, saying that their Covid case numbers were far lower than many areas of the north of England and the Midlands, where schools had stayed open
the department had procured an additional 1.3 million digital devices for pupils and schools would have 750,000 devices by the end of this week.