Thousands of primary pupils face closed schools
By Sean Coughlan
BBC News family and education correspondent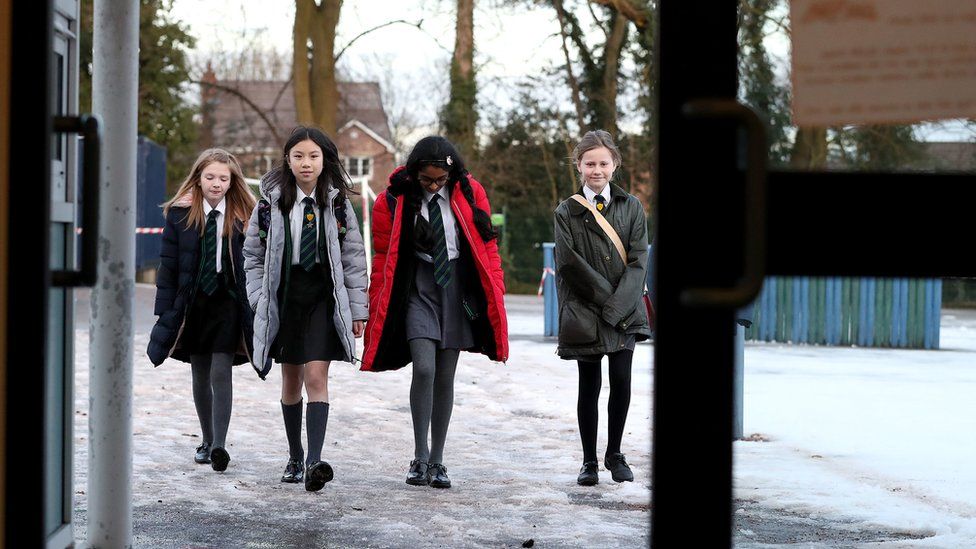 Thousands of pupils have not started primary school as expected - with local closures in several parts of England.
Head teachers warned of a "confusing picture" with some schools staying shut after teachers' union safety warnings about the risk of Covid infections.
A joint letter from education unions called for a "pause" in reopening schools, accusing the government of "creating chaos".
The Department for Education said closing should only be a "last resort".
Adding to the uncertainty, some local authorities have argued against reopening and some individual primary schools have remained closed for most pupils - in addition to those schools already required to stay shut because of high coronavirus levels.
There are so far no official national figures for how many schools have not have fully opened, apart from for vulnerable and key workers' children - but local reports include:
more than 130 schools in Norfolk, many citing staff shortages
more than 40 in Durham
21 in North Tyneside
26 in Newcastle
10 in Reading
nine in Northumberland
five in Oldham
Health Secretary Matt Hancock said school was the "right place" for children, wherever possible.
"When it comes to schools, we've taken the decision not to reopen schools in some of the most affected areas.
"But these are difficult balances - and people will have very mixed emotions," he told BBC Radio 4's Today programme.
If schools are closed, Labour shadow chancellor Anneliese Dodds has called for support for parents unable to work because of childcare problems.
Vicky Smith from Hertfordshire faces an anxious personal dilemma about sending her daughter back to primary school - as she is worried about the risk of infection to her seriously ill father, who also lives with them.
"I want to send my kids to school because all her friends are there, but what if she brings it home?," she says.
"Chances are if she gives it to her granddad, she might not have a granddad. It's not so much we think our children are in danger - it's the people they are going to bring it down to."
Vicky also says even in Tier 4 the current restrictions do not seem to be particularly strict.
"You can still go to work and go to school, it doesn't feel safe.
"My dad is quite happy for her to go to school, but how is she going to feel if she gives it to her granddad. I don't know what to do.
"I don't want to get a big fine and I don't want to stop her learning. But I also feel… I just don't know what to do."
Secondary schools are staying closed this week except for vulnerable and key workers' children - and in local authorities with high levels of coronavirus, including across London, primary schools are also not open to most pupils.
But reopening primary schools in other areas, including for some in Tier 4, has been challenged, with the biggest teachers' union, the National Education Union, calling for teaching to be moved online for the first two weeks of term.
The NEU has advised teachers they can say they are not going to teach classes in school because of concerns over safety.
A joint letter from education unions, including teachers and support staff, says bringing pupils back to school "risks increasing the infection rate" and means exposing school staff to "serious risk of ill-health".
The letter, co-ordinated by the TUC, calls for priority access to Covid vaccines for school staff and to move lessons online "while Covid-secure working arrangements are reviewed".
But the wife of a primary school teacher in Harrow who caught Covid towards the end of last term, and was hospitalised over Christmas, said protecting staff had to be a priority.
"Teachers are passionate and loyal but somebody needs to fight for them," she told the BBC.
Staff in, but more pupils missing
Mungo Sheppard, head teacher of Ash Green primary school in Calderdale, says his school opened as planned on Monday - without staff staying away, but with higher than usual numbers of missing pupils.
Of the school's 500 pupils, Mr Sheppard says 75 are off, mostly with "Covid-related" issues, compared with 15 absent at the end of last term.
"We also have, for the first time since September, children whose parents have taken the decision to keep them at home due to anxieties linked to the new variant and rising rates," he said.
But the head teacher says their efforts have been hampered by last-minute decisions at a national level.
"It has been incredibly difficult to make these decisions and communicate them in a tiny timeframe and within a holiday," says Mr Sheppard.
Some local authorities have backed schools deciding not to open - and others have questioned the decision to keep schools open in some areas, when other nearby schools have been told to shut.
Kent County Council called for a delay in reopening primary schools in four parts of the county.
But a message on Twitter from the Conservative MP for Folkestone and Hythe, Damian Collins, suggested further changes were on the way.
After a meeting with School Standards Minister Nick Gibb, Mr Collins said the "decision about which schools will be required to stay open will be reviewed in the next few days by the Department for Education".
Julian Rose, head of West Chiltington School in West Sussex, has an inset day on Monday and is expecting to open on Tuesday.
He says "some very anxious" parents have been in touch about children going back when the area is in Tier 4.
"I think many feel astonished that we are still open when operating under Tier 4," says Mr Rose.
And he says the school will "not have a full complement of staff in attendance".
A Department for Education spokesman said: "Children's education has consistently been a national priority, which is why we want classrooms to reopen wherever possible in the new term.
"Schools will continue to implement appropriate safety measures to help mitigate the risk of transmission."
Are you a parent of schoolchildren? Or are you a teacher? How will the latest advice affect you? Email haveyoursay@bbc.co.uk.
Or use this form to get in touch:
If you are reading this page and can't see the form you will need to visit the mobile version of the BBC website to submit your comment or send it via email to HaveYourSay@bbc.co.uk. Please include your name, age and location with any comment you send in.