Vulnerable children in lockdown 'national concern'
By Sean Coughlan
Family and education correspondent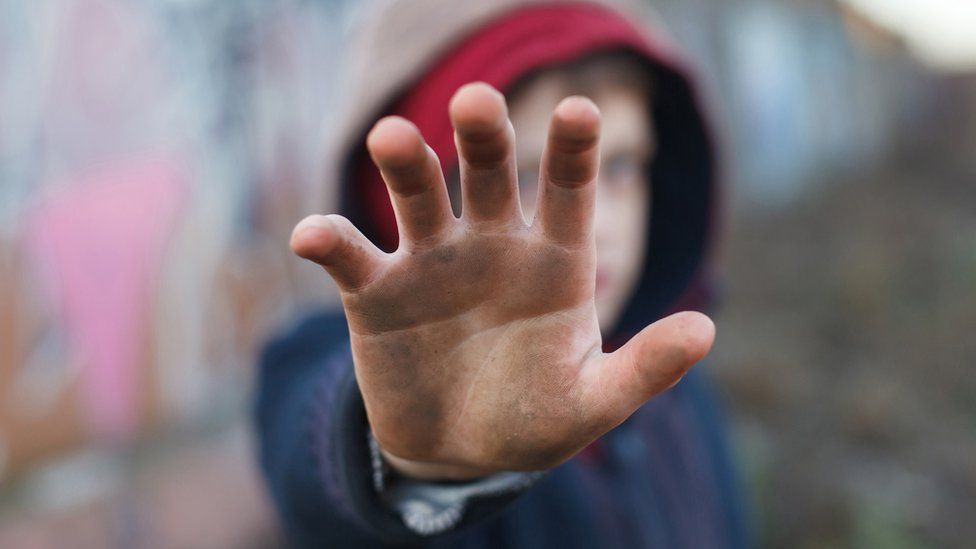 The "invisibility of vulnerable children" during the pandemic should be a "matter of national concern," says England's chief inspector of schools.
Amanda Spielman warns when many pupils were out of school in the lockdown, teachers might not have picked up early warning signs of abuse or neglect.
The chief inspector says such children, at risk of harm, slipped out of sight.
Launching her annual report, Ms Spielman says it should now be a priority to find such overlooked cases.
The NSPCC has raised concerns about risks to vulnerable children during the lockdown. Here are some snapshots from calls to the charity.
"My uncle is touching me sexually. He did it today and it has been happening for a few months now. He is still visiting us and sleeps over despite the government lockdown and I don't feel safe at home. Nobody else knows and I don't know if I could tell my parents, it would destroy my dad."
Boy aged 15 call to Childline
Schools remained open during the first lockdown for the children of key workers and for vulnerable children - but many eligible families did not send their children to school.
Ms Spielman says pupils not being in school and a lack of access for health visitors had a "dramatic impact" - with a reduction in concerns over neglect or abuse being referred to local authorities.
The Local Government Association says referrals to children's social care teams were down by about a fifth, to 41,000 cases between April and June, resulting in about 1,600 children being looked after, a third below previous years.
There will now need to be "urgent" co-ordinated action to identify children whose problems were missed during the pandemic, warns the chief inspector.
"I'm very worried about a young girl who is being physically abused by her mother. We are close family friends and I used to babysit her. She has told me her mother used a shoe to hit her across the face and arms while she was doing her homework. I feel like the situation has exacerbated due to the coronavirus restrictions."
Adult family friend to NSPCC helpline.
The report also raises wider concerns about the mental health and well-being of pupils, after the pandemic, in which children could have faced isolation, anxiety, loneliness or even bereavement.
The Ofsted chief also raises concerns about the pressures on families of children with special educational needs - saying many were "struggling to cope".
They faced a reduction in support services and specialist activities as well as time in school for those who were shielding - which might have provided respite for parents, as well as educational opportunities.
Such families were "hidden victims" of the pandemic, says Ms Spielman.
"Covid-19 has exposed an already crumbling infrastructure that fails to meet the needs of our most vulnerable children all too often," says the chief inspector.
Ofsted suspended regular inspections during the pandemic, but the watchdog's report says the disruption to lessons has seen many pupils slipping back - and it says it is likely that the attainment gap between rich and poor children will get wider.
"I've become increasingly disturbed by the noises coming from one of one my neighbours - it's been getting worse since the lockdown. I can hear the mother shouting and swearing at her two little ones, it sounds vengeful and aggressive. Sometimes the mother locks her kids out in the front garden as punishment - the youngest was crying hysterically for half an hour, it was awful."
Adult caller to NSPCC helpline.
The quality of online learning was "variable", says the report, with some children lacking access to technology and others lacking motivation to learn at home.
The annual report highlights weaknesses with apprenticeships - saying they had the "least effective" education providers.
And it warned almost two thirds of apprentices had either been furloughed, been made redundant or had their off-the-job training suspended.
Paul Whiteman of the National Association of Head Teachers said school leaders shared concerns about vulnerable children in the pandemic.
But he said budgets for child support services have been "slashed" and "10 years of government neglect has left vulnerable children and families on the edge - and Covid has nudged many of them over".
Mr Whiteman warned schools were already under great pressure - and he called on Ofsted not to resume regular school inspections in the new year.
Geoff Barton, head of the leaders' union ASCL said Ms Spielman was highlighting "an important issue".
"Schools worked very hard to reach out to families with vulnerable children and bring these pupils into the emergency provision in schools during the first national lockdown," he said.
"Schools have been highly focused on addressing any problems with the wellbeing of students since full reopening in September, and they are very relieved to have vulnerable pupils back in school where they can make sure they have the support they need."
A Department for Education spokeswoman said: "The safety and well-being of the most vulnerable children has always been our focus, which is why we kept nurseries, schools and colleges open for those children throughout the pandemic.
"It remains a national priority to keep full-time education open for all," she said.