Covid: Laptop allocation for deprived pupils cut at some schools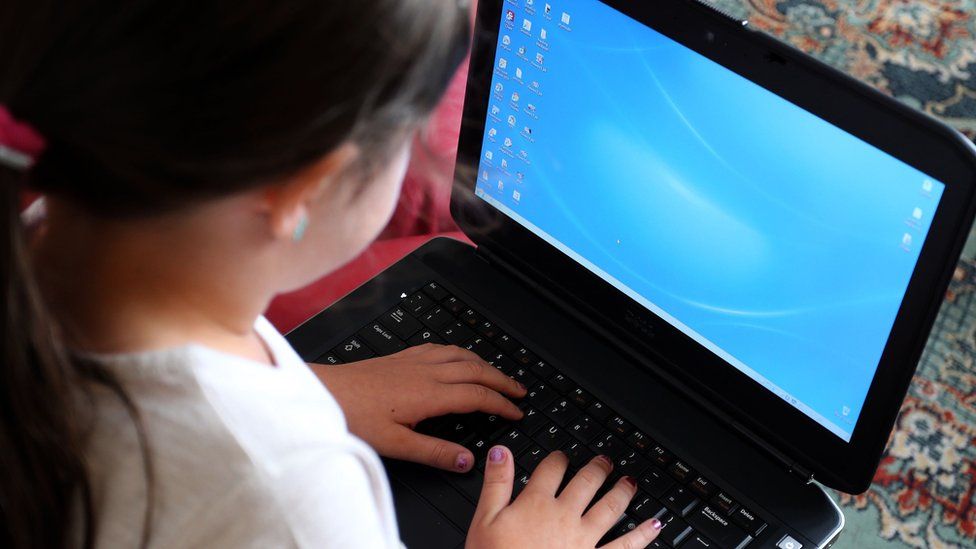 Access to government-provided laptops in England has been cut at some schools, head teachers have said.
The government pledged to offer the devices to disadvantaged pupils who are at home because of coronavirus and do not own a computer.
However, on Friday some schools were told the number of laptops they were promised had been cut by 80% after the government allocation process changed.
The government says the devices will be sent to the areas of greatest need.
One head teacher told the BBC he was "flattened" when he learned his school's allocation had been cut from 61 laptops to 13.
The Department for Education has pledged to provide devices for children in Years 3 to 11 on free school meals who do not have laptops and whose face-to-face education is disrupted, as well as any disadvantaged children shielding.
Some schools have received the entire batch, but others who have applied recently for the devices were told by the DfE on Friday they would now receive 20% of the laptops they were expecting.
The notification came the day after a new legal duty on schools to provide immediate access to remote learning to pupils at home because of Covid-19 came into force.
'It destroyed me, it flattened me'
Chris Dyson, head teacher at Parklands School in Leeds, told the BBC his school had been allocated 61 laptops.
When he received an email from the DfE on Friday saying it had secured an extra 100,000 laptops and was updating its allocation process he hoped that number would increase.
He said: "I actually needed 168. So I logged on expecting to hopefully see my 61 had gone up, and it destroyed me, it flattened me, when I saw it's actually been cut to 13.
"Thirteen laptops in a worst-case scenario to share amongst 380 children. I thought it was absolutely scandalous."
Michael Tidd, head teacher at East Preston Junior School in Sussex, said his allocation of laptops has been cut from 17 to three.
Speaking to BBC Radio 4's Today programme, Mr Tidd said schools had been putting plans in place to meet the new remote learning legal duty.
"And then the day after all those plans had to be finalised, then we get told that the number of laptops we were expecting... it's been reduced massively."
Another school told the BBC it was informed it would receive 66 laptops instead of the 332 originally promised.
The school leaders union NAHT said the timing of the changes to laptop allocation numbers "beggars belief".
Nick Brook, NAHT deputy general secretary, said: "The government has been quick to mandate what it expects schools to be able to do when it comes to remote learning, but is clearly unable to deliver the necessary tools that schools and their pupils need."
'Increased global demand'
The DfE calculates the number of devices available to schools based on the number of children in years 3 to 11, free school meals data and how many devices a school already has.
It said more than 340,000 laptops and tablets were being made available to schools this term to support disadvantaged children, with deliveries expected to total half a million by Christmas.
A DfE spokesperson said: "As we move into half term, and in the context of significant global demand, we're updating our allocation process to more accurately align orders with the number of students schools typically have self-isolating, ensuring as many children as possible benefit from receiving a device this term.
"We have already purchased an additional 96,000 devices and continue to work closely with our suppliers to ensure delivery despite the increased global demand."