Students warn mock grades 'make mockery' of exams
By Sean Coughlan
BBC News family and education correspondent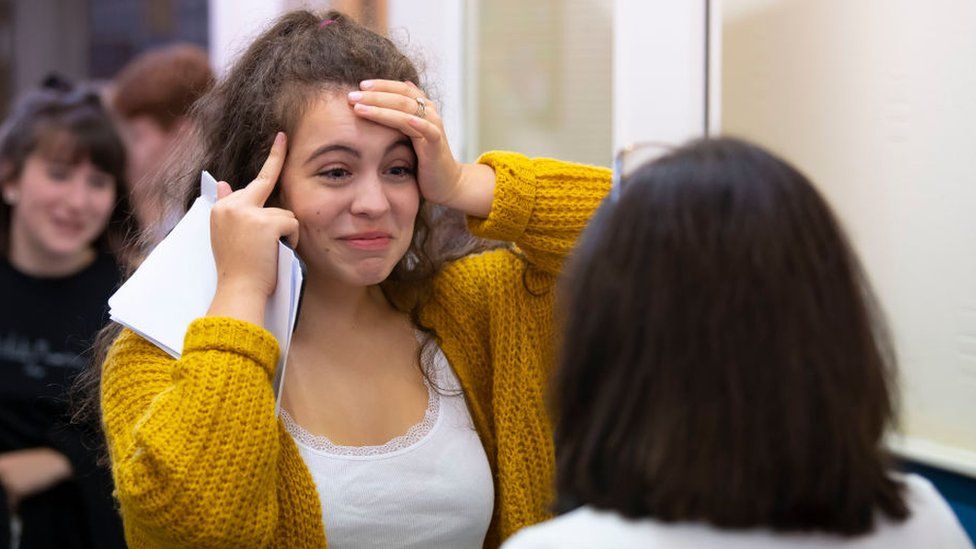 Schools in England can appeal for an upgrade if their students' A-level and GCSE results are lower than mock exams.
The Department for Education has announced a last-minute "triple lock" - which could raise replacement grades for exams cancelled in the pandemic.
It means pupils could have whichever result is highest from estimated grades, mocks or exams in the autumn.
But the Ofqual exams watchdog says it cannot say how appeals over mocks might be verified until next week.
Ofqual said in a statement it was "working urgently" to "determine what standards of evidence will be required for the appeal".
The National Union of Students said using mock results risked "making a mockery" of the exam system.
And head teachers attacked the change, the day before A-level results are published, as "panicked and chaotic".
England's Education Secretary Gavin Williamson said it was a "safety net" for those getting estimated grades this summer.
In Wales, in another "guarantee" over grades, Education Minister Kirsty Williams has promised that "a learner's final A-level grade cannot be lower than their AS-grade".
'Total botch job': Why are heads so angry about using mock exams?
The change means that if pupils get an estimated grade lower than their mock exam they can appeal - but this will have to be through their school, with the terms for approving appeals still to be decided by the exam watchdog, Ofqual.
But Geoff Barton, leader of the ASCL head teachers' union, said the move "beggars belief" because mock exams are carried out in many different ways and are not consistent enough to be used for A-level and GCSE results.
"The government doesn't appear to understand how mock exams work. They aren't a set of exams which all conform to the same standards. The clue is in the name 'mock'," said Mr Barton.
West Sussex head teacher Jules White described the decision as a "shambles" - and a "total botch job".
He said in some schools pupils might know in advance the specific topics on which they are going to be tested - and in other schools they might not have taken mocks before the lockdown.
Other schools might be tough on marking mocks as a way of getting pupils to revise.
To use such different circumstances for results "defies logic and credibility," said Mr White.
"The use of mock exams results risks making a mockery of the whole system," said Larissa Kennedy, president of the National Union of Students.
She warned there was a "lack of a standard approach to mock exams" and "they are not taken by all candidates".
How grades are being decided around the UK
England: the key information for A-levels and GCSEs will be how pupils are ranked by their school and results in their schools and colleges in previous years.
Plus a "triple lock" with the highest grade out of the allocated grade, an autumn written exam or a mock exam, dependent on a successful appeal through a school
Vocational qualifications will have estimated results for some courses, but not the same "triple lock"
Northern Ireland will allow appeals based on mocks and includes AS-levels in deciding results
Scotland has switched to using teachers' predicted grades
Wales has promised students that A-level results will not be lower than their AS-level results
The move in England comes after 76,000 pupils in Scotland had their results upgraded after being lowered by a moderating system which critics claimed was a "postcode lottery" as it linked pupils' results with their schools' past performances.
It drew accusations that high-achieving pupils in low-performing schools would lose out - and that this would particularly discriminate against young people in deprived areas.
The Scottish government has apologised and results will now be based on teachers' predicted grades.
England's schools minister Nick Gibb told BBC Breakfast being able to appeal on the basis of their mock results was "an extra safety net for a small group of pupils".
He rejected concerns about confusion and said he would "apologise to nobody for finding solutions - even at the eleventh hour "to stop students being disadvantaged.
It will mean that mock exams will now have an impact on A-level and GCSE results in England and Northern Ireland, alongside how pupils are ranked on ability and the share of grades that their schools and colleges have achieved in recent years.
England's exam regulator Ofqual said relying on teachers' predictions would have unfairly inflated results.
Using teachers' predictions would have meant about 38% of entries would have been A* or A grades this year - considerably higher than the previous record of 27%.
For vocational qualifications, such as BTECs, estimated grades are also being issued - but not for subjects which depend on tests for practical skills, which need to be carried out in person.
The "triple lock" approach, linked to mocks and exams in the autumn, will not apply in the same way to vocational qualifications.
The Welsh government has given A-level students a guarantee that their final results will not be lower than their AS-level grades - and they are initially lower a revised grade will be issued.
Mary Bousted of the National Education Union warned students in different parts of the UK were now applying for the same university places with results based on "completely different criteria and wildly different pass rates".
What does it mean for university places?
With A-level results only a day away, Universities UK wants "urgent clarification" about what these changes will mean for deciding on places.
Universities have been told if students miss out on grades, but their schools are appealing, places have to be kept open until that appeal has been decided.
But the universities organisation says it is far from clear how this will work for appeals over mock exams - and is asking whether results based on mocks can be considered as having "equal status" in deciding who gets accepted or rejected.
They also warn about the practical complications, such as trying to allocate accommodation.
"Never in recent memory have we been faced with such uncertainty and challenge on the eve of A-level and BTec results day," said Anja Hazebroek from the University of Hull.
But it is still expected to be a good year for students looking for university places - with an anticipated fall in overseas students leaving many places to be filled.
"Those near-miss candidates, if they've dropped one or two grades, universities are being super-flexible about that," said Clare Marchant of the Ucas admissions service..