Coronavirus: Many schools 'will have to shut in days'
By Hannah Richardson and Katherine Sellgren
BBC News education reporters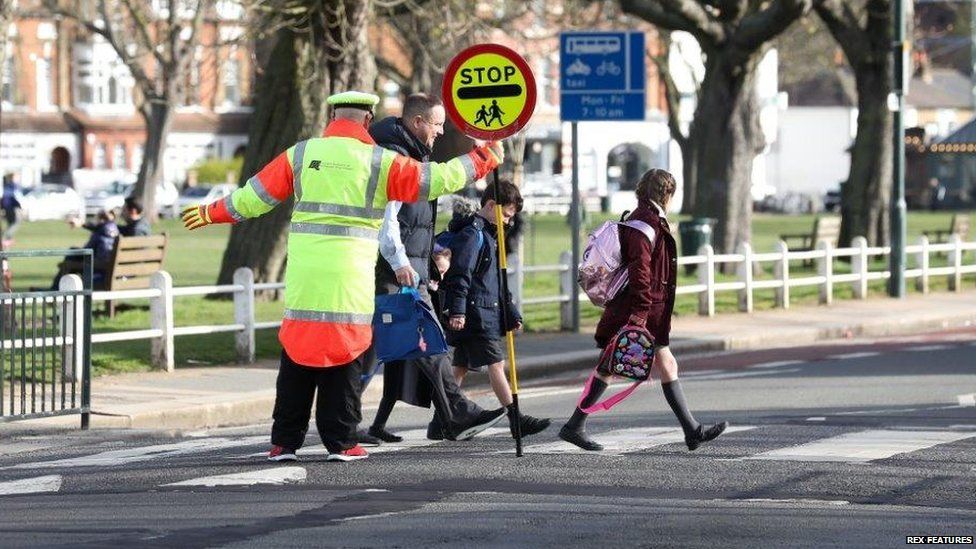 Many schools across the UK will not be able to remain open past the end of the week, says a head teachers' leader.
ASCL general secretary Geoff Barton said experienced head teachers in large schools were saying they would struggle to stay up and running past Friday.
It comes after teaching unions spoke of the "intolerable pressure" of staying open as more and more staff get sick.
The government's chief scientific adviser has reiterated that schools will remain open for now.
But Sir Patrick Vallance, speaking to MPs at a hearing on Tuesday afternoon, said school closures were still "on the table", as one of the measures that could be used to fight the virus.
At his press conference on Tuesday afternoon, Prime Minister Boris Johnson said school closures were under "continuous review".
Mr Barton told the BBC: "Some very seasoned head teachers have been calling me to say they will not be able to manage much longer.
"One said he had 17 members of staff call in sick. And I think this will be replicated around the country.
"Some areas may be worst hit than others, but there's an inevitability about this. The trajectory cannot go anything other than downwards.
"People are saying they will do well to get to the end of the week."
He thought it was time to work out how schools could best support the community if they did have to close, and said he had discussed this with Education Secretary Gavin Williamson at a meeting on Monday.
"If the assumption is we can't run schools as normal, what that may mean is getting ourselves some time to plan for the next phase of this," Mr Barton said.
Decisions would have to be made, he said, as to who should be prioritised: "Would it be those with exams coming up or children on free school meals?"
Earlier, NASUWT union head Chris Keates said government advice to keep schools open is causing chaos and confusion, amid fears pupils are carrying the virus.
She told of a "rising sense of panic" in schools as staff fear for their safety as more and more people get ill.
Another teaching union, the National Education Union, has urged ministers to close schools, and said it would be advising members with underlying conditions to stay off work from next Monday.
The schools watchdog in England, Ofsted, has been given permission by the government to temporarily suspend all routine inspections of schools, further education, early years and social care providers.
Chancellor Rishi Sunak has said funding for early years grants will continue during any periods of nursery, preschool or childminder closures, or where children cannot attend due to coronavirus.
The uncertain situation is causing concern among many parents.
Hayley Beards from Sutton Coldfield, who has an eight-year-old, says she doesn't feel confident people will "follow the rules".
"There are other parents with vulnerable children, or vulnerable people all still sending their children in.
"People aren't used to making decisions and it's like they want to be told what to do - they want less guidance and more telling."
Jen from the East Riding told the BBC she is frustrated by the lack of information from her son's school.
"My son has had a cold since the end of last week, as children do, but last night he told me he feels like someone's punching him in his chest and his throat feels weird.
"This morning I was still in two minds but I called the school and the head teacher answered in two rings and said we should definitely self isolate as he's got two pregnant members of staff and children with grandparents to think about."
Despite pressure from teaching unions, the government insists sending hundreds of thousands of pupils home would leave NHS and frontline care staff facing childcare crises.
It has said closures may be necessary in the future, but only "at the right stage" of the outbreak.
This notion was reflected by head teacher of The Chantry School, in rural Worcestershire, Andy Dickenson.
He wrote on Twitter: "If I close my school tomorrow to avoid a mass gathering are you coming for me @BorisJohnson?#schoolclosure."
He told the BBC he had been moved to question the policy due to the inconsistency between advice about mass gatherings and schools remaining open.
"Schools are an absolute breeding ground for bugs - we know that. Equally we have a social responsibility so ensure we are not putting into the care of their grandparents or NHS workers."
He suggested setting online learning for pupils at home and schools running on a skeleton staff to support the children of parents who need to go to work.
Nicola from Aberdeenshire has children in primary school, where regular hand washing has been implemented, and teaches in a secondary where there are no gels or hand washing.
"It seems like they are relying on students to follow guidance themselves, but they are teenagers so they just don't - it feels like we've been forgotten," she said.
Tara Telford from Cumbria, who has an eight-year-old and a five-year-old, is vulnerable because because she takes immunosuppressive medication due to a chronic disease.
"I have reason to be terrified but my kids are in. People should talk to schools, have the conversation, if more did what my kids' school did we could keep schools open for longer."