Head teacher talks of cleaning toilets in funding shortage
By Sean Coughlan
BBC News education and family correspondent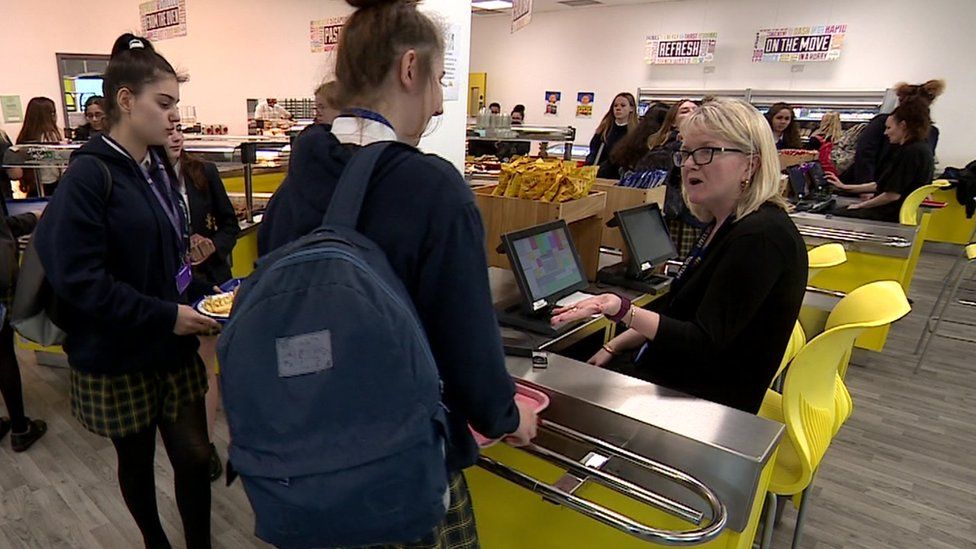 A head teacher says she has had to scrub the toilets, clean the school and work in the canteen because of school funding shortages on schools.
Siobhan Lowe, head of Tolworth Girls' School in Surbiton, south London, spoke of the embarrassment of not being able to fund support for her pupils.
She says she has already sold off land, cut subjects and a deputy head post to stay afloat, as budgets tightened.
It comes as thousands of heads have highlighted worsening funding gaps.
About 7,000 head teachers in England have written to 3.5 million parents saying that schools are facing a "funding crisis".
They say they are angry that the education secretary has refused to meet them to discuss the issue.
They say requests to talk to Damian Hinds were turned down because his time is too "pressurised" to meet, and that this suggested he was "in denial" about the cash issues facing schools.
But the Department for Education said it was "fundamentally untrue" to say funding was not a priority.
A department spokesman said Mr Hinds had negotiated an extra £750m for schools and was "putting a strong case to the Treasury ahead of the next spending review".
'Phenomenal amount of cuts'
But Ms Lowe told BBC Radio 4's Today programme she had been forced to make a "phenomenal amount of cuts" in every area of her school.
"I've reduced the number of teaching groups, I've reduced the number of options that students have, I've increased class sizes, I've cut critical services such as student support workers who work with our most vulnerable," she said.
"I personally have cleaned the school, washed the toilets, served in the school canteen."
She added: "My girls are looking at me and feeling so sorry for me that they're actually picking up the Hoover and doing it with me."
Ms Lowe added she had just £10 per pupil per year to fund basic needs like books, and that parents were having to pay for things such as printing.
"As a head teacher, you're almost embarrassed to admit you can't support the students in your school," she continued. "But why am I embarrassed? It's not my embarrassment.
"It's due to the fact that I'm not given the money to provide for the students."
Jules White, West Sussex head teacher and organiser of the schools funding campaign letter, said: "When thousands of heads are all saying the same thing, it seems incredible that ministers are too busy to meet.
"Families have a right to know that our efforts to improve things are falling on deaf ears.
"Heads must now consider whether the refusal to meet us is either a complacent act of denial or simply a deliberate snub."
The joint letter sent home to parents, warning of the impact of cash shortages, quotes a letter to head teachers rejecting a request to talk to the education secretary or Schools Minister Nick Gibb. blaming prioritising ministerial business.
The letter is being sent to parents in areas including Cornwall, Devon, Somerset, Gloucestershire, Dorset, Wiltshire, Hampshire, some London boroughs, Surrey, Kent, Essex, Norfolk, Suffolk and Cumbria.
A DFE spokesperson said the education secretary met teachers and unions "on a regular basis".
Earlier this year, the Education Policy Institute said almost a third of local authority secondary schools in England were unable to cover their costs, with the proportion of these schools in the red almost quadrupling in four years.
The government has acknowledged that schools can face extra pressures, such as support for children with mental health problems, but says funding is continuing to rise to record levels.
Catharine Darnton, head of Gillotts School, in Henley, Oxfordshire, said her school was also seeing rising pupil numbers without funding for more staff.
Sean Maher, head of Richard Challoner school in New Malden, Surrey, said schools "now spend a significant sum and a huge amount of time on supporting students and families with all sorts of non-educational issues", which had to come out of already over-stretched budgets.
The Department for Education defended its record on school spending, saying it was at its "highest-ever level, rising from almost £41bn in 2017-18 to £43.5bn by 2019-20".