The 16 grammars that have won funds to expand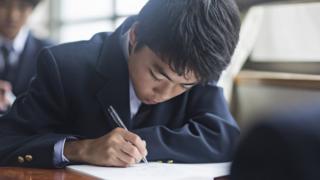 Sixteen grammar schools in England have been given permission to create hundreds of new places.
The schools are receiving a share of the Department for Education's £50m selective school expansion fund to accommodate up to 4,000 extra pupils.
The schools were selected from 39 applications and make up 10% of England's 163 grammar schools.
The money has been granted on the condition these schools have ambitious plans to admit more poor pupils.
The government says all 16 selective schools will be making changes to their admission arrangements to increase access for disadvantaged children.
Most of them have committed to lowering the mark required to pass the entrance test for pupils who qualify for the pupil premium.
Others will help pupil premium children, or children attending schools in less affluent areas, prepare for their entrance tests.
Which 16 schools are expanding?
The 16 schools are:
Altrincham Grammar School for Boys (Trafford)
Bournemouth School (Bournemouth)
Bournemouth School for Girls (Bournemouth)
Chelmsford County High School (Essex)
Colchester County High School (Essex)
Colyton Grammar School (Devon)
John Hampden Grammar School (Buckinghamshire)
Kendrick School (Reading)
Lawrence Sheriff School (Warwickshire)
Queen Mary's Grammar School (Walsall)
Queen Mary's High School (Walsall)
Sir Thomas Rich's School (Gloucestershire)
Sir William Borlase's Grammar school (Buckinghamshire)
St Michael's Catholic Grammar School (Barnet)
Rochester Grammar School (Medway)
Wolverhampton Girls High School (Wolverhampton)
What's the background to the £50m expansion fund?
The new fund was announced in May of this year.
It came after Prime Minister Theresa May's proposed scheme to open a new wave of grammars had to be abandoned, when she lost her Commons majority in June 2017.
Her plan was dropped due to lack of parliamentary support, because it would have required a change in the law.
The creation of new selective schools is illegal, following a ban by Labour in 1998.
Critics of grammars say middle-class children are more likely to win places, because so many parents pay for private tutoring to ensure higher marks in exams.
But, commenting on the 16 expanding grammars, Education Secretary Damian Hinds said selective schools were part of the country's education system and were popular with parents.
"So, it is right that when there is need for more places in an area, these schools should be able to expand - as other schools can - to enable as many children as possible to benefit," he said.
"I have always been clear that selective schools will only be able to expand if they meet the high bar we have set for increasing access for disadvantaged children - and all of these schools have done that."
Chief executive of the Grammar School Heads Association Jim Skinner welcomed the news "at a time of significant growth in the number of pupils reaching secondary age".
"The large majority of selective schools now prioritise access for disadvantaged pupils, which is backed up by outreach and partnership work with local schools," he said.
"Selective schools are therefore well placed to contribute to meeting the ongoing need for more school places and supporting high quality education provision elsewhere."
Aren't other grammar schools expanding?
BBC analysis of official data, conducted in August, shows there are 11,000 more grammar school pupils in England now than in 2010.
And by 2021, the data suggests, the number of extra places created will be equivalent to 24 new grammar schools compared with eight years ago.
This rise in numbers does not cover the extra places that will come about as a result of the £50m growth fund.