Missing special needs support 'a national scandal'
By Hannah Richardson
BBC News education reporter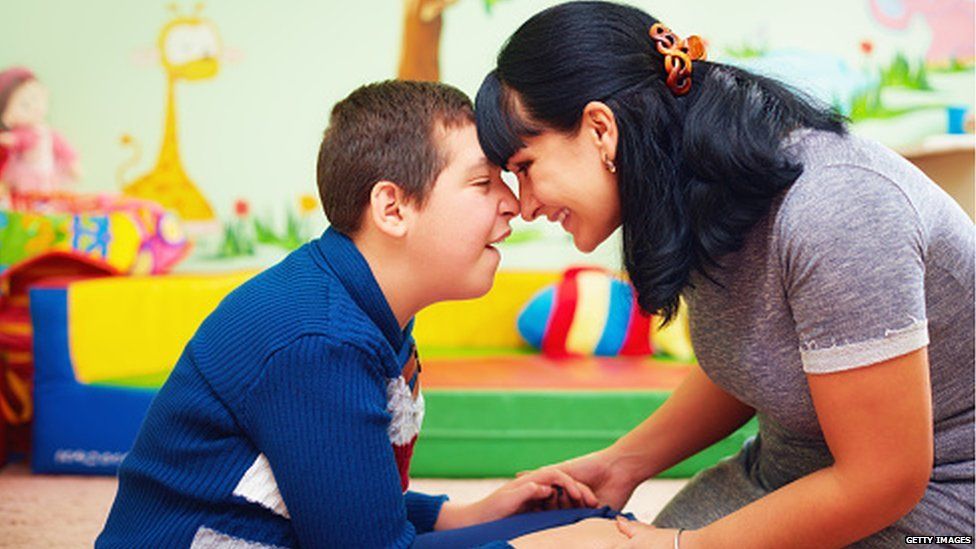 Thousands of children missing out on support for diagnosed special educational needs in England is a "national scandal", Ofsted has said.
There are 2,060 children in 2018 who have education, health and care plans (EHCs) setting out their needs, but who receive no support at all.
Some parents said a child is only assessed when they are excluded.
Ofsted chief, Amanda Spielman, also raised the issue of children disappearing from education.
Ms Spielman says: "Too often, children who have been assessed still do not receive the services they need."
She uses her annual report to expose what she describes as a "bleak picture" of too many children "failed by the education system".
The report raises concerns about support for the 1.3 million pupils with special needs.
She says between 2010 and 2017, the number of children with a plan designating their needs, but who received no provision, had increased fivefold.
It had been above 4,000 in 2017, but has now been reduced to 2,060.
The Department for Education says some of these young people will be in the process of moving between schools or colleges.
"One child with Send [special educational needs and disability] not receiving the help they need is disturbing enough, but thousands is a national scandal," says Ms Spielman, England's chief inspector of schools.
The report also says: "Most disconcerting is that the whereabouts of some of our most vulnerable children is unknown."
It revisits serious concerns that some pupils are being moved off the school roll illegally, because they may be seen as difficult to teach.
The report suggests 10,000 pupils cannot be accounted for and may have been "off-rolled" by schools in Years 10 and 11, because they did not appear on the pupil list of another state school.
It acknowledges many of these may have switched to independent schools, moved elsewhere or have been taken out for home schooling.
But, it says, it is unlikely that all of this number would fit into these categories.
The report says that compounding the difficulties faced by children with Send and their parents is that demand for EHC needs assessments from local authorities has risen by a half since 2015.
In 2017, 45,200 children and young people were assessed, while 14,600 were refused an assessment.
EHC assessments and plans were introduced in 2014 amid a shake-up designed to streamline and reduce the burden on the special needs education system.
They replaced statements of special educational needs which were carried out by local authorities.
Many parents complained of the long and difficult battles they had to get their child's needs "statemented".
But campaigners say the same issues are being faced with EHCs.
At the same time, the costs of supporting more children with lower levels of special needs were handed back to schools, which have been facing budget pressures of their own.
There was also a stated intention to reduce the number of children diagnosed with lower levels of special needs.
Some believe these are part of the reasons why the EHC assessment and plan system has come under pressure.
Both local councils and head teachers have been grappling with huge rises in demand for high needs support - those children with the highest level of need.
The report says: "Too often, the identification of Send is inaccurate or comes too late. This only exacerbates children's needs and puts even greater strain on the need for services.
"Often the worst hand is dealt to those who do not quite meet the threshold for an EHC plan.
"Understandably, parents feel that to do the best for their children they must go to extreme lengths to secure an EHC plan, which not every child will need.
"Something is truly wrong when parents repeatedly tell inspectors that they have to fight to get the help and support that their child needs. That is completely contrary to the ethos of the Send reforms."
Last month, representatives of local authorities told MPs of the funding problems they face in their high needs budgets.
Surrey County Council revealed it faced £30m in pressures on its high needs budget for this year, adding this was enough to trigger formal restrictions on any further spending at the council.
Inspectors say secondary schools in Wales could do better, with only half judged good or excellent.
A Department for Education spokesman said the report "shows we have a robust education system - one where parents can feel assured that the vast majority of schools, early years providers, children's homes and local authorities provide a high level of education and care for young people, regardless of their circumstances".
"One of the key functions of a good regulator is that it highlights areas of concern and we will work with Ofsted, schools, local authorities and others to address the issues this report picks out."
Head teachers union, the Association of School and College Leaders, said funding pressures were making it more difficult to give children the individual support to help them to overcome challenges they face.
And that means schools are less able offer the early intervention which prevents challenging behaviour escalating to the point of an exclusion.
Related Internet Links
The BBC is not responsible for the content of external sites.