At least '320,000 people homeless in Britain'
By Hannah Richardson
BBC News education and social affairs reporter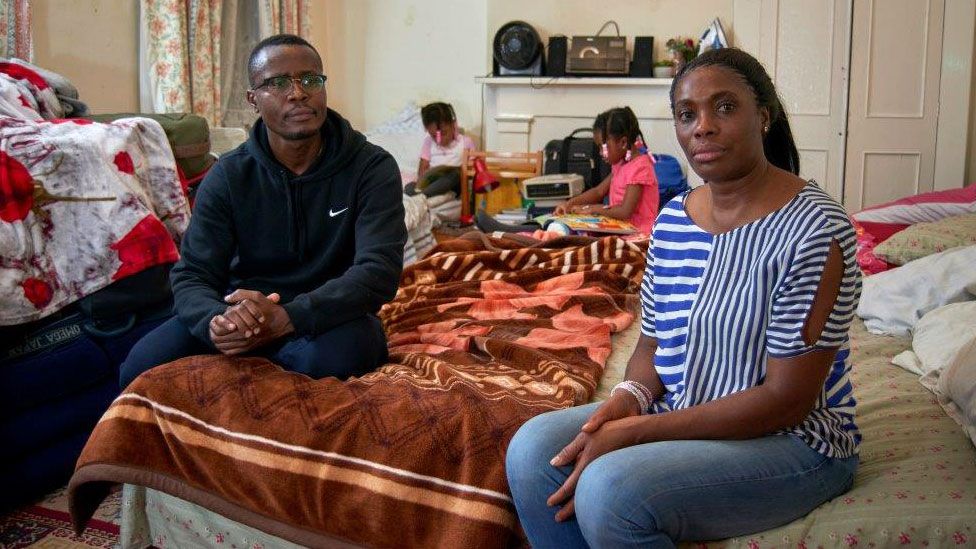 This year, 320,000 people were recorded as homeless in Britain, analysis from housing charity Shelter suggests.
It is a rise of 13,000, or 4%, on last year's figures and equivalent to 36 new people becoming homeless every day.
London has the highest rate of homelessness, but it is growing fastest in the Midlands, Yorkshire and the Humber, and north-west England, the analysis says.
The government says it is investing £1.2bn to tackle homelessness.
'Family at breaking point'
The report, which is published as temperatures start to plummet, says the real level of homelessness is notoriously difficult to measure.
Only individuals in contact with local authorities or in hostels are included in the official figures.
Telli Afrik, his wife and two young children, are one family caught up in the homelessness crisis.
They lost their home this year because, despite working, they could on longer afford to pay their rent.
They are living in a single room in their sixth homelessness hostel and have to eat sitting on the floor because they have no table.
Telli also lost his job as a supermarket manager because he had to attend so many appointments with different housing teams.
"That was a direct result of our homelessness," he says.
"Financially we've been brought to nothing.
"My confidence - nothing. My family is at breaking point."
Shelter analysts arrived at the total of 320,000 after collating official figures for those living in temporary accommodation, sleeping rough and the number of hostel places taken up, reducing them to compensate for potential double-counting.
Statistics for Scotland include only those in temporary accommodation, while those for Wales cover temporary accommodation and known rough sleepers.
The charity says its figures are likely to be a conservative estimate, as they do not include people unknown to the authorities or experiencing other types of homelessness not included in the figures.
They add that rough sleeping figures are particularly difficult to record because many people hide and remain out of sight for safety reasons and are not seen by the council officials who carry out the counts.
So, those who bed down for the night in derelict buildings rather than the more obvious shop doorways are often missed out of the tally.
But the figures show that since Shelter first carried out this kind of analysis in 2016, an extra 25,000 people have become homeless.
They also mean one in every 200 Britons is either sleeping rough or living in temporary accommodation, such as hostels and B&Bs.
Chief executive of the charity Polly Neate said: "These new figures show that homelessness is having a devastating impact on the lives of people right across the country.
"Due to the perfect storm of spiralling rents, welfare cuts and a total lack of social housing, record numbers of people are sleeping out on the streets or stuck in the cramped confines of a hostel room.
"We desperately need action now to change tomorrow for the hundreds of thousands whose lives will be blighted by homelessness this winter."
Previous research by the charity highlighted how many people were prevented from finding somewhere new, when made homeless, because the low level of housing benefit they were entitled to would not cover their rent.
Communities Secretary James Brokenshire said a new law required local councils to do more to prevent homelessness.
He added that the government was supporting those working on the front line to help get people off the street and into accommodation.
And he highlighted the government's affordable housing programme.