The students who fear for their ambitions amid college cuts
By Hannah Richardson
BBC News education reporter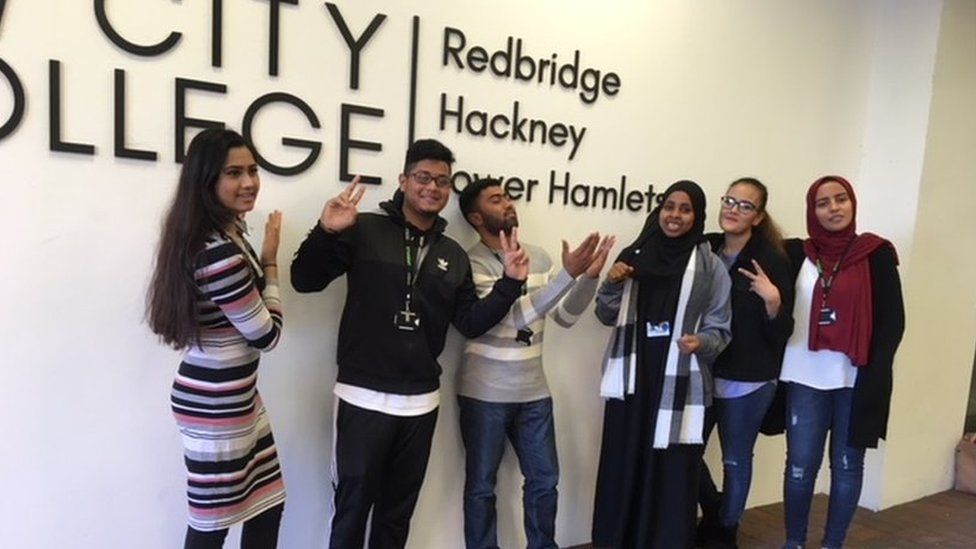 These six young people are ambitious and determined.
They are an aspiring teacher, a future social worker, a would-be accountant, a budding cardiologist, a wannabe pilot and a veterinary surgeon of tomorrow.
But they fear their dreams, and those of young people like them, may be thwarted by further education funding pressures.
They are all students at New City College in east London, which is closing the doors to its six campuses on Wednesday so staff can join a march against the cuts.
The aspirations of these students are as high as the office blocks of the international banks that provide the backdrop to the Poplar campus where they are based.
Rasheda is studying childcare but eventually wants to become a teacher.
On hearing of the continuing cuts to further education, she says: "It makes me feel like the government doesn't care about our education and ambitions."
The 17-year-old came to England from Bangladesh at the age of 11.
She says she wants to give something back to society in return for her education.
Yara, who is 18 and studying science, says: "Young people are the future of our country.
"These are the people the government should focus on.
"One day we are going to be productive, we are going to make the country go ahead."
She adds shyly: "My ambition is to become an airline pilot.
"There are of course barriers to me achieving this ambition."
She says sometimes people laugh when she tells them.
"I say 'Why not? I dreamt it'."
But currently these young people are scrabbling for text books in the college library and struggling to cover the cost of photocopying.
They can't afford to buy the books for themselves.
Omaema, another scientist and aspiring vet, says she would like to be able to take her core course text book home once in a while.
"So I can study and feel more confident. At the moment we share them with our classmates and borrow books in the library."
Gerry McDonald, the group principal at the college, says although FE has never been the best-funded part of the education system, "enough is enough".
"We just want to be treated fairly."
He explains that schools are able to offer higher rates to pay the teachers who are in demand.
"It's a sector that operates on very thin margins.
"If you aggregated all the budgets of the 260 colleges in England they would be operating in deficit," he explains.
Representatives from further education colleges across England are joining the march in central London to highlight the funding issues.
A rally, featuring speeches from college principals and students, will fill Parliament Square. This is being followed by a lobby of MPs.
The march comes after Commons Education Committee chairman Robert Halfon wrote to Chancellor Philip Hammond to highlight the stark disparity between funding for pre and post-16 education.
He urged the government to "look very carefully" at the core level of funding for FE ahead of the Budget and Spending Review.
In the letter, he said: "It cannot be right that a funding 'dip' exists for students between the ages of 16 and 18, only to rise again in higher education."
The letter adds that "successive governments have failed to give further education the recognition it deserves for the role it pays in our national productivity puzzle".
Apprenticeships and skills minister Anne Milton said: "I am aware of the funding pressures in further education which is why we are conducting an assessment of education funding and the sustainability of the sector."
But Shakira Martin, NUS President, asked how students could be supported when when college "budgets have been cut, and cut and cut again"
And "when colleges have been forced to merge into big, impersonal institutions and when nearly a third of our staff positions have been lost since 2010."
The amount of cash spent on pupils drops significantly once they turn 16
This is despite the fact that A-levels and other post-16 qualifications are the access route to higher education and better jobs
The Association of Colleges says that from 2009 to 2019, college funding has fallen by about 30%
What do colleges say this has meant?
Fewer hours of teaching and support for young people
A drastic reduction in the number of learning opportunities for adults
The value of staff pay falling by more than 25% since 2009
College teachers earning £7,000 less on average than school teachers
They say additional funding would help colleges to:
recruit and retain more specialist teachers and support staff
effectively implement technical education reforms
maintain academic standards
support all students to develop literacy and numeracy skills
What does the Department for Education say?
It believes colleges have a vital role to play in ensuring people have the right skills to get on in life
It is investing nearly £7bn this year to make sure there is a place for every 16 to 19-year-old in education, training, or on an apprenticeship
It has protected the base level of funding for 16 to 19-year-olds until 2020
It has announced extra support for its key priorities
Related Internet Links
The BBC is not responsible for the content of external sites.