DFE school funding claims face watchdog investigation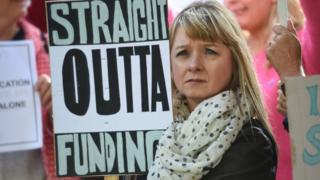 School spending claims by the Department for Education are being investigated by the UK's statistics watchdog.
It follows BBC News reports which showed figures quoted by education ministers defending their record on state school spending included the money spent by university students on tuition fees and parents on private school fees.
This has been confirmed by the OECD think tank that compiles the international comparisons of spending figures.
Head teachers' leaders have accused the department of "disrespecting" schools and teachers by this "extraordinary" use of statistics, warning it has "serious questions to answer".
The Department for Education accepts that the spending claim is not limited to public spending on schools - but stands by its use of the figures as "true".
The investigation will be carried out by the UK Statistics Authority, the watchdog which prevents the misleading use of figures.
Funding dispute
Education ministers last week faced accusations that they were failing to provide adequate funding for schools in England - with head teachers staging a protest in Westminster.
Ministers dismissed the claims made by school leaders - saying that not only were schools getting more money than ever, the UK was the "third highest spender on education in the world".
But this claim has faced intense scrutiny - with heads saying it was "shocking and disturbing" that the Department for Education could quote a spending figure that turned out to include billions spent by students on tuition fees.
It is now to be investigated by the statistics watchdog, which reports directly to Parliament and checks whether figures could be misleading and the context in which they are presented.
On BBC Radio 4's Today programme last Friday, the School Standards Minister, Nick Gibb, argued against a head teacher warning of funding shortages.
"We are spending record amounts on our school funding. We are the third highest spender on education in the OECD," said Mr Gibb.
It was a claim that had also been made in statements from the Department for Education and published on its website.
But what angered heads was the discovery that this "third highest spender" figure was not only about government funding of schools in England but included all types of education spending, for school and university, public and private, including tuition fees and fees in the independent school sector.
'Accurate' or 'distorted'?
Jules White, organiser of the head teachers' funding protest last week, said that school leaders had been "relentlessly reasonable" - but ministers had now been "caught out" trying to "fool parents and the public".
"We appeal to them to stop the pattern of using dreadfully misleading information which is unfair to educational professionals and most crucially to parents and pupils," said the Sussex head teacher.
Mary Bousted, joint leader of the National Education Union, said on Twitter that the DfE's use of figures in the school funding debate was "appalling"
Paul Whiteman, leader of the National Association of Head Teachers, said: "We have consistently argued that funding for schools is down by 8% in real terms.
"The National Audit Office agrees, the Institute of Fiscal Studies agrees, parents can see it is true, as can the electorate."
He said that head teachers would be "disappointed but not surprised that the department has serious questions to answer over the veracity of their claims".
"If trust goes, there is little left for the profession to hold on to. Failing to face up to the truth will cheat an entire generation."
Geoff Barton, leader of the ASCL head teachers' union, said: "We have also looked at the OECD data quoted by the Department for Education and it does seem to include spending on private education as well as on university tuition fees.
"It is extraordinary that the department used that statistic to defend its record on school funding.
"I think that school leaders and teachers feel that the DfE is disrespecting them when it uses statistics which don't bear any analysis."
Labour's shadow education secretary, Angela Rayner, accused the government of "deliberately trying to con the public about the shameful way they have cut education spending".
But a Department for Education spokesman defended how the claim had been used.
He said there were other international comparisons showing the UK had high levels of spending on schools.
"The most informative OECD statistic on school funding is that in 2015 among G7 nations, the UK government spent the highest percentage of GDP on institutions delivering primary and secondary education," he said.