The single mums who created one big, happy family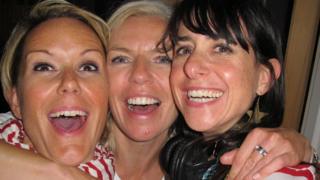 Janet Hoggart had been a single mother for a year when she first offered her friend and baby her spare room. She told the Victoria Derbyshire programme how a few weeks turned into two years and it evolved into a "mum commune" with three mums and six children.
"It made really happy memories in a time that could have been sad - when Vicky moved in the whole atmosphere lifted," says Janet, who had three children under five at the time.
"When my sister visited from university for the weekend she said it was 'just like university except you've got money'."
Vicky and her 10-month-old daughter moved into Janet's attic after her relationship ended and Vicky found herself without enough money for a deposit when her house was sold.
The women had previously holidayed together in their couples and Janet she says she saw them living together as an "extended version of a holiday".
"When she moved in, once she'd been there for a while, actually it was like, 'I don't really want you to move out'," Janet says.
Nicola, a third mother who they knew from local baby music classes, joined Janet and Vicky when they realised she was alone too. Nicola's husband had left three weeks after Janet's.
There was not enough room for Nicola to live in the house, but she spent time there after school and at most weekends. The trio synchronised weekends off while their children were with their fathers, navigating single life together with big nights out and earning the nickname "the three witches".
The arrangement worked on a practical level, with the women cooking together and helping each other out with childcare.
"When you have been through something rubbish like someone leaving you, petty stuff didn't matter," says Janet.
She did not charge Vicky any rent for the first year, telling her to save her money to get her own place. Instead, Vicky paid for a cleaner twice a week.
In many ways, Janet says it was easier living with a woman.
"Gender stereotype alert, I've been married twice, I know these things, men do not see dirt and mess like women do. Vicky would be like me, be able to see the dirt, we were really on the same page," she explains.
"The place would get wrecked, four kids, two adults, Nicola and two kids, so it was hectic, but we kept on top of it because there was an unspoken agreement we'd keep the house looking OK."
Many of their friends were envious and they became a beacon for others experiencing difficulties.
"It was amusing, several women in our friendship group who were starting to feel disgruntled in their marriages were thinking 'hmmm, there is another way, you don't have to die of heartbreak'. We picked each other up, you don't have to be on your own," Janet says.
"Not blowing a trumpet, but it was an open-door policy for waifs and strays, people having a rubbish time would come into our lives - have some wine, sit down, we were good at cooking meals, very inclusive, had so many parties. It was a really happy time, really positive time, women-bonding time."
The arrangement came to an end quite naturally, when Vicky realised she needed more space and to give her daughter Daisy her own room.
Janet says living together has changed her definition of family, describing them as, "jigsaw-piece soulmates".
"I've always put my friends out there as the people that you've chosen as your family, rather than blood relations. It's a fluid thing as well, people come in and out of lives for different reasons - people come in, serve a purpose. Or people stay there for ever," she explains.
Janet says the experience has helped her realise she is still very much a family with her ex-husband and his family, from whom she initially pulled away.
"I had his sister round for lunch recently and she said 'you're always going to be my sister-in-law' and I really held on to that," she said.
Janet, who has now remarried, says her message to anyone going through the same experience of splitting up with their partner is to always help people.
"When you feel really, really rubbish, my top tip is to help another person with something they're going through, automatically by helping someone else, you're helping yourself. Not to distract you from your own pain, but you might learn something from helping someone else. We all helped each other massively.
"We didn't know they were doing anything special, friends were coming up and telling us we're amazing, we were just living their lives, we didn't think we were doing anything outrageous. Looking back, it was real feminist action."
Watch the BBC's Victoria Derbyshire programme on weekdays between 09:00 and 11:00 BST on BBC Two and the BBC News Channel in the UK and on iPlayer afterwards.