Parents head to High Court over special needs cuts
By Katherine Sellgren
BBC News family and education reporter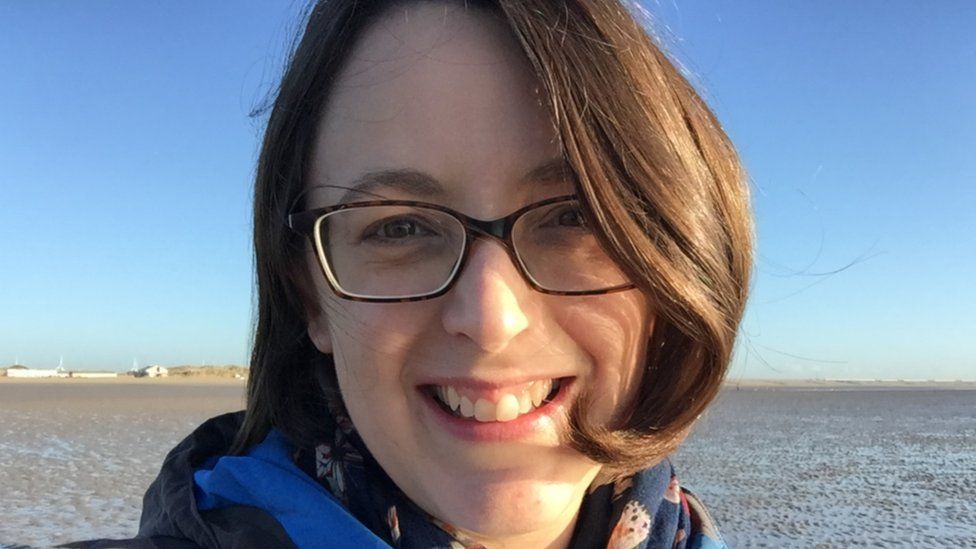 "This is not about getting extra violin lessons for our kids. This is about the support they need to achieve their full potential in life.
"It's about how they might be able one day to get a job and live independently. It's that important."
Sarah Jones is one of four mothers from Surrey taking a case to the High Court to challenge cuts to services for their five children with disabilities.
Surrey County Council plans to cut £21m from services for disabled children.
The council says its focus is still to make sure children get the support they need.
But the mothers claim the planned cuts are unlawful, because the local authority did not consult affected families.
'Already a fight: How much harder will it get?'
Sarah's son, who has a rare neuromuscular condition, communicates using sign language and a tablet - but, with support, he's in mainstream school.
Sarah says she understands the council's predicament.
"I recognise they're in a very difficult position," she says. "They've had huge amounts of funding cuts from central government. So naturally there are a lot of pressures.
"But at the end of the day, they also have a legal and moral responsibility to meet the needs of children with disabilities.
"So many parents are already having to fight so hard to get the support their children need to be safe at school, to have the development they need to get at school, to have the therapy they need - that's already a fight.
"So many parents are fighting - so how much harder will it get?"
What is motivating these mothers to take this action?
Alicia McColl, whose 14-year-old son is autistic and has attention deficit hyperactivity disorder (ADHD), was the mother who reached out to others locally to tackle the issue.
"I think a lot of parents are very concerned about it . When we first went out there and said: 'This is what's going to happen', we had a massive response from parents."
Alicia hopes the court action will prompt a response from central government.
"I think they [the council] have an obligation to go back to central government and say: 'We don't have enough money, we cannot meet our obligations because we just don't have enough money'."
Sarah says she's bringing the case for her son - and others.
"It's about the support for my son that he needs, it's about the support for all the other children who are like him in Surrey.
"Because this level of cuts is going to make it very difficult for people who already have to fight quite hard to get the support they need for their children."
Debbie Butler, whose son and daughter are both autistic, hopes the case will show why it's important to invest in children with special educational needs and disabilities (SEND) early on in life.
"The support that these children get could enable them to be independent. Without that support, they're always going to need help from society, so in the long term it's actually cheaper to put the provision in now."
What does Surrey County Council say?
Surrey County Council has issued a short statement about the judicial review.
"We are defending this claim, but as ever our main focus is making sure children get the support that they need," it said.
The council says it won't be saying anything more until after the judgement.
How unusual is this sort of action?
This group is not the first to bring such an action - and is unlikely to be the last.
In July, a group of parents from Bristol brought a legal challenge over Bristol City Council's decision to cut £5m from services for children with SEND.
A group of parents from Hackney in east London is bringing a similar case at the end of October.
In Scarborough, North Yorkshire and Robertsbridge, East Sussex, parents are trying to raise funds to bring a case.
What does the families' lawyer say?
The Surrey families are being represented by human rights lawyer Anne-Marie Irwin from Irwin Mitchell.
Ms Irwin said: "We are pleased that the High Court has recognised the need for a full legal review of the county council's plans to be held.
"However, despite this, we would once again urge the local authority to reconsider its decision and enter into constructive dialogue with the families on how best to find a solution.
"We appreciate the severe financial burdens that public services face, but this issue will not go away."
What does the Department for Education say?
Minister for Children and Families Nadhim Zahawi said he wanted children with SEND "to achieve well in school and college, find employment and go on to live happy and fulfilled lives" just like others.
"We have introduced education health and care plans (EHCPs), putting families at the heart of the process and providing support tailored to individual needs.
"Our externally led exclusions review is looking at why some children are more likely to be excluded from school, including those with SEND."