Ofsted admits adding to 'teach-to-the-test' mentality
By Katherine Sellgren
BBC News education reporter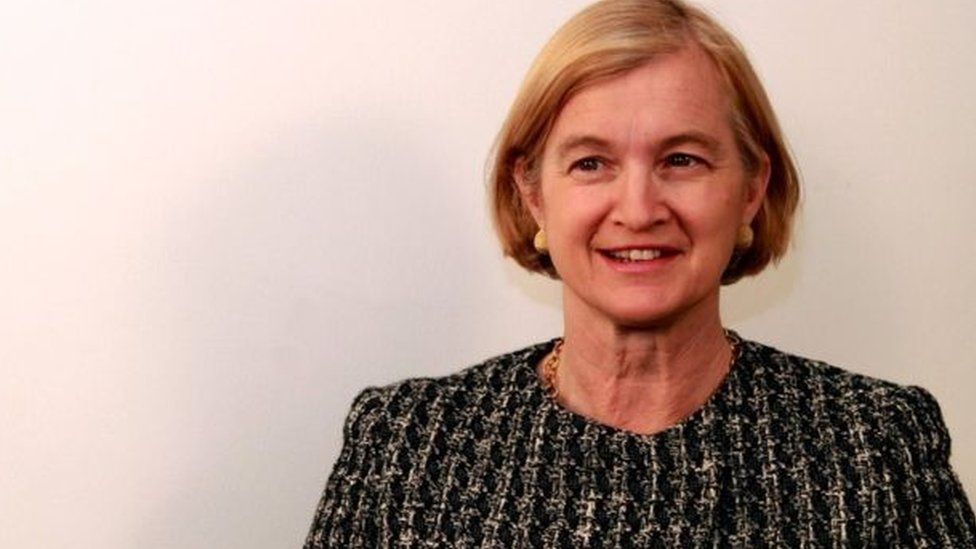 School inspectors in England have put too much weight on tests and exam results when rating schools, Ofsted boss Amanda Spielman has admitted.
This has added pressure for schools to "deliver test scores above all else".
Ms Spielman regrets the watchdog has not put enough emphasis on the "wealth of human knowledge" being passed on.
However, she promises that a new inspection framework - being introduced from autumn 2019 - will put much more emphasis on the curriculum.
What did she say about teaching to the test?
In a published commentary, the chief inspector says those working in education need to ask themselves "how we have created a situation where second-guessing the test can trump the pursuit of real, deep knowledge and understanding".
She writes: "Too many teachers and leaders have not been trained to think deeply about what they want their pupils to learn and how they are going to teach it.
"We saw curriculum narrowing, especially in upper key stage 2, with lessons disproportionately focused on English and mathematics.
"Sometimes, this manifested as intensive, even obsessive, test preparation for key stage 2 sats [national curriculum tests] that in some cases started at Christmas in Year 6.
"Some secondary schools were significantly shortening key stage 3 in order to start GCSEs.
"This approach results in the range of subjects that pupils study narrowing at an early stage and means that they might drop art, history or music, for instance, at age 12 or 13.
"At the same time, the assessment objectives from GCSE specifications were being tracked back to as early as year 7, meaning many pupils spend their secondary education learning narrowed and shallow test content rather than broader and more in-depth content across a subject area."
So is Ofsted saying results don't matter?
No. The Ofsted boss is clear that pupils' results will still be taken into account when inspectors measure school performance.
"There need be no conflict between teaching a broad, rich curriculum and achieving success in exams," she writes.
"A well-constructed, well-taught curriculum will lead to good results because those results will be a reflection of what pupils have learned.
"Pupil attainment and qualifications will always remain important as one measure of a school's effectiveness, and of course hugely important to young people themselves."
But from next autumn, inspectors will look much more closely at how a rounded curriculum is being delivered.
What does Ofsted think a good curriculum looks like?
The chief inspector says a good curriculum gives a school purpose.
"Ultimately, the curriculum is the yardstick for what school leaders want their pupils to know and to be able to do by the time they leave school.
"It is therefore imperative that the new inspection framework has curriculum as a central focus."
Ms Spielman says that, while the national curriculum "provides us with an important benchmark", the content, structure and how it is developed is down for school leaders to decide.
"It should depend on a number of factors relevant to a particular school's context and the knowledge and expertise of curriculum leaders."
How have school leaders reacted?
Geoff Barton, general-secretary of the Association of School and College Leaders, said: "We support, in principle, Ofsted's intention to focus more on the curriculum and less on test and exam results.
"Done well, it has the potential to liberate schools and teachers from the grinding pressure of preparing for Sats in primary schools and GCSEs in secondary schools, and feel empowered to concentrate more on a broad, balanced and rich curriculum.
"Our concern, however, is that this does not translate into an Ofsted-prescribed curriculum, and we are reassured by the chief inspector's commentary which recognises the importance of schools having the autonomy to choose the curriculum which most benefits their students.
"It is essential that the new Ofsted framework champions the distinctiveness of schools to serve the needs of their communities."
Related Internet Links
The BBC is not responsible for the content of external sites.