Generation Sensible: The 18-year-olds of today
By Hannah Richardson
BBC News education and social affairs reporter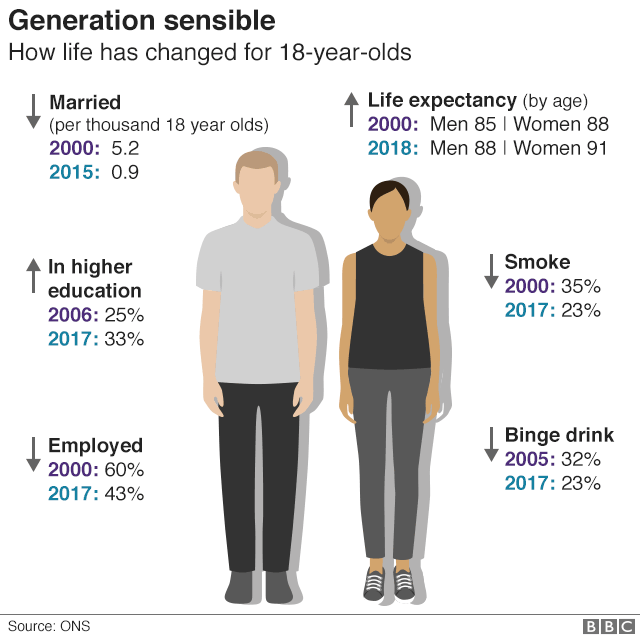 Dubbed Generation Sensible, the 18-year-olds of today are much more likely to be found in the university library than the local pub, research suggests.
It might be an oversimplification to call today's older teenagers "boffins" and those at that age around the millennium "boozers", the ONS suggests.
But cigarettes and alcohol simply do not play as big a part in their lives.
Only about half of 18- to 24-year-olds surveyed in 2017 had drunk alcohol in the previous week, the ONS says.
But when it started measuring drinking habits, in 2005, this proportion was closer to two-thirds.
Binge drinking is also on the decline.
Back in 2005, one in three young people had "binged" in the previous week.
But in 2017, the proportion was less than a quarter.
Smoking rates among today's young people have also dropped - from about 35% in 2000 to about 18% in 2017.
And they are socialising less - by about 25 minutes a day.
Record numbers of young people are going to university now, with every third 18-year-old on some kind of higher education course.
This will in part be due to the requirement that youngsters remain in education or training until the age of 18.
But it's also the continuation of a long trend.
More young women especially are going to university.
The ONS also highlights a 58% drop in the number of babies born to 18-year-old women between 2000 and 2016.
And it points to easier access to information about sex, relationships and contraception via tablets and smartphones.
Probably the biggest difference between now and 2000, however, is the dominance of the online world and all that comes with it.
The ONS report says: "The internet was a very different place at the start of the century - with no Facebook, Snapchat, YouTube or Instagram - and no smartphones to access it.
"The biggest changes about how 18-year-olds spend their time may be driven in part by the rise of digital technology."
The UK Harmonised Time Use Survey suggests these older teenagers spend an extra 17 minutes a day on computers compared with 2000 - and an extra half an hour a day playing video games.
But they also do more sport - eight minutes more a day.
The age of majority used to come with expectations of standing on one's own two feet.
But today's 18-year-olds are, on average, starting their working life later, according to the ONS.
Currently, about 43% of them are working, compared with 60% of 18-year-olds in 2000.
But although there is a big rise in the number of 18-year-olds said to be economically inactive, the virtually unchanged unemployment rate means they are probably still in education or on a training course.
And when it comes to life expectancy, the prognosis for today's older teenagers is good, with both male and female 18-year-olds expected to live two years longer than in 2000.
Related Internet Links
The BBC is not responsible for the content of external sites.